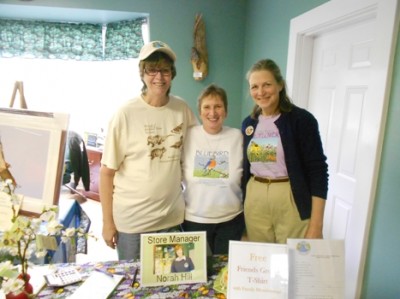 The Friends of Wallkill River celebrated Earth Day in a big way this year. The event on April 22 started with the popular Edible and Medicinal Plant Walk led by Jessica Lawlor and Adam Hamer. Twenty-four people attended the walk along the Dagmar Dale Trail learning about the variety of greens growing to spice up a salad, leaves for teas, and beneficial treatments available in the plants growing wild. They finished just in time to come in out of the rain and enjoy the Friends' Nature Store Grand Opening celebration.
Activities continued indoors for the afternoon. More than 80 people came to the opening, purchased items at the store, enjoyed the refreshments, children made colorful rain sticks, and door prizes were given out every half hour. We showed everyone our new refuge logo featured on patches and hats. We also launched our Junior Refuge Manager program and families wasted no time purchasing the newly printed activity book to get started. Justin Smisko was recognized for his work on the logo and book.
We added five family and two senior memberships. Members enjoyed the 10% discount on store items and the chance to win a soaring Red-tailed Hawk photograph donated by Herb Houghton.