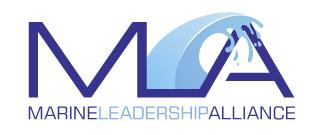 The Marine Leadership Alliance (MLA) kicked off its annual conference on Sunday, April 29 at the Ritz-Carlton Resort, Amelia Island, Fla. Over 100 conference attendees shared ideas and discussed the impacts of politics, the economy and liability insurance on the boating industry during the first day of the conference.
The opening session featured keynote speaker Scott Rasmussen, well-known political analyst, author and independent public opinion pollster. Rasmussen captivated attendees with statistics from recent polling data pertaining to Americans' confidence in the economy and government leadership. Data shows 65 percent of U.S. households break even or are in the red every month. Only 35 percent of American households contribute any money to savings each month. The majority of Americans are unhappy with their government and have been since the Reagan era. Rasmussen predicts a true leader will emerge in the next four years and steer the country in a new direction, saying "We have a leadership void in our country—a huge shift is coming."
Rasmussen shared that even with the dim outlook on the economy; the American dream is still alive. The 35 percent of "savers" are buying luxury goods, such as boats. He recommended the boating industry keep inventory minimal and stay cash positive.
Conference attendees also participated in an informative panel discussion, "Liability Insurance and the Marine Industry." The panel discussed existing legal cases pertaining to boating accidents and provided guidance on how boat builders and suppliers can limit their exposure to lawsuits. Panel members emphasized the importance of completing risk assessments, planning for failure and developing solutions when problems arise. Panel member and president of Merrimac Marine Insurance, Pat Duggan said, "Do FEMA analysis and get National Marine Manufacturers Association (NMMA) certified. If you are not certified, you are going to have a bad day when something goes wrong." By following compliance policies and procedures, the risk of liability is greatly reduced.
The day concluded with a tour and dinner reception at White Oak Conservation Center, one of the world's premiere wildlife breeding, research and training facilities. Conference attendees enjoyed interacting with the center's wildlife, including petting a rhinoceros, feeding a giraffe and watching a cheetah race. In support of White Oak's commitment to the environment, the MLA is making a charitable contribution to the center.