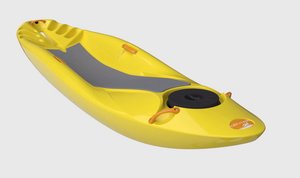 A revolutionary new water sport is on the way to a river, lake or beach this summer. Bodyboating on a Bellyak is the fresh, new way to play on the water and is certain to appeal to a wide variety of outdoor enthusiasts. It combines the full body fitness of swimming, the exhilaration of riding on the water and the maneuverability of a kayak without the need for a paddle, skirt or sitting in a boat.
Created by life long kayaker and water sports enthusiast Adam Masters and his wife Anna, Bellyak began like most great concepts do – with a crazy idea and some duct tape. After a storm, Master's tight backyard creek turned into a tempting class II curl. The space was too narrow to use a paddle, so Adam covered the cockpit of his boat with a spray skirt and duct tape, hugged the boat tight to his belly and launched into the froth. Not only did he live to tell about it, he had an absolute blast and the genesis for Bellyak!
"I love traditional white water kayaking, it's in my blood," says Masters, son of Perception Kayak founder Bill Masters, "but I also understand the sport's steep learning curve." "With Bellyak and bodyboating, there's no spray skirt, no paddle to manage and no feeling of being 'trapped' in a boat – it's a high fun, low risk way for anyone to get on the water, have fun and get an amazing workout."
Creating a new sport category and the gear to go with it are no easy task, but Masters is passionate about getting more people out on the water to experience the freedom and sheer joy of playing and being one with the water. Plus a life spent growing up in a mold factory had him prepared for the trial, error and testing required for a great mold. In the roto-molded plastic Bellyak, a rider's full length is supported, so nothing drags in the water, allowing riders to use their entire body for maneuverability.
"Bellyak is unique for many reasons, but I love the perspective from down low, just skimming over the water," says Masters. "The boats are designed to be ridden lying down, on knees or seated, but I prefer the sense of control and the natural connection I experience when riding on my belly."
Bellyak is launching with two boat styles for this summer – the larger Frequency, for fun from beach surf, to the lake and family time on the river, and the more compact Play, for tricks at your favorite stretch of white water or flat spins at the local park-n-play. Both styles of Bellyak fit on a standard kayak roof rack, or even the back seat of your car, so you can take the fun with you wherever you go. Other basic gear needs include webbed gloves, personal flotation device and helmet.
"Bellyaking is a great way for a white water kayaker or swimmer to shake up their workout routine and for a group of friends to have fun on the water, no matter specific skill levels," according to Masters. "This is a way to take Class II whitewater to Class V fun!"