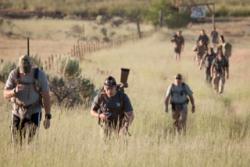 If long-range precision shooting in real-world hunting scenarios worked into a physically challenging format is something that piques your interest, the Vortex Extreme is your event.
Held at the Spirit Ridge Rifle Golf long range shooting facility in Tremonton, Utah July 20-21, the Vortex Extreme requires each team of two to navigate the 7-mile course on foot carrying everything needed to successfully engage targets out to 1,000 yards. Final scores are a compilation of how well each team shoots and how long it takes them to complete the course.
50 teams of two. Up to 26 shots each. Nearly all shots will be from natural shooting positions adding to the realism of each scenario. Scores will be based on course time and how well each team shoots. Strong legs and lungs recommended.
If you can hack it to pack it, you can bring it. Participants must carry everything needed to effectively shoot and complete the course. Each person must carry their own rifle. Other kit can be shared.
Recommended Gear:
Rifle, ammunition, optics, rangefinder, shooting sticks, backpack, extra water, energy snacks, sun screen, good footwear, hat, eye protection, hearing protection and anything else needed.
For detailed information, a video from last year's event, and to register, click the following link: http://www.vortexoptics.com/content/vortex_extreme
We look forward to seeing you there.