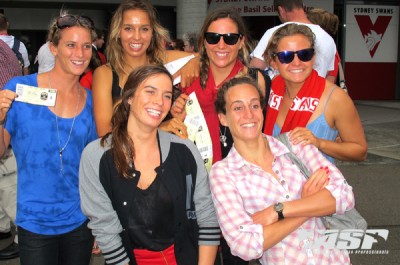 Amongst the sea of red of white AFL fans at Sunday afternoon's match between the Sydney Swans and the North Melbourne Kangaroos sat five of the Top 17 ASP Women's World Championship Tour surfers. The Commonwealth Bank Beachley Classic finished up at Sydney's Dee Why Beach on Saturday, with American Courtney Conlogue (USA) winning the event. She celebrated by going to the football with her tour mates Sally Fitzgibbons (AUS), Tyler Wright (AUS), Pauline Ado (FRA) and Justine Dupont (FRA).
Commonwealth Bank Beachley Classic contest director and seven-time ASP Women's World Champion Layne Beachley is an ambassador for the Swans and arranged for the competitors to get a true taste of Sydney by attending a footy match at the Sydney Cricket Ground (SCG). The Swans won their fourth straight game of the season, much to the delight of the surfers and the 20,000 plus stong crowd of AFL fans.
Fitzgibbons is a sports fanatic and an avid AFL supporter and was left to explain the rules to the internationals, and despite being a massive Geelong Cats supporter was thrilled to see the Swans win on home soil.
"I'm a Geelong supporter," Fitzgibbons said. "But Sydney is my home team and they're trying to convert me. I'm really just on a recon mission for when our mighty Cats play the Swans, I'm going to get the inside scoop and report back. All of the girls are having a great time. Nothing beats Sunday afternoon footy."
Conlogue, fresh from her maiden win on the ASP Women's World Championship Tour loved her first taste of Australian Football, and will be getting another dose of Sydney culture by attending the Australian Ballet at the Sydney Opera House tonight.
"When you go to events all the time it's nice to go and do some things away from the beach," Conlogue said. "I don't even know what the rules are in this game, but it's great to watch. I'm really excited about going to the Sydney Opera House too. This trip to Sydney has been amazing!"
Wright has lived in New South Wales all of her life, but had never been to an AFL game. She said that although Sydney is her home team, they would have to fight for her loyalty and win the game.
"They won and I'm wearing red so I guess I'm a Swans fan," Wright said. "This is one of the best parts about being on tour. Going out with your friends and seeing new things. I don't really know all the rules, but the guys just take each other out and it's good to watch."
The French pair Ado and Dupont were constantly in hysterics at the oddities of AFL when compared to Rugby Union and Soccer that they're used to. They loved the game, asked a million questions and laughed every time the boundary umpire threw the ball back into play. The women all left the game educated in a unique part of Australian culture and with more memories of their Sydney experience.