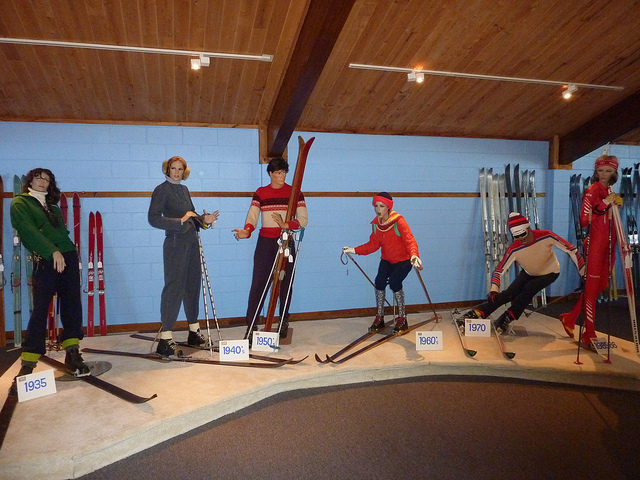 Eight legends of skiing were inducted into the U.S. Ski and Snowboard Hall of Fame on Saturday at a ceremony with more than 600 attendees. Olympic and World Championship medalists Joe Pack and Eva Twardokens were the two inductees that were at the top of headlines leading up to the event in Seattle, Washington.
Nominations are open to the public while the process of deciding the inductees is managed by the Hall of Fame's National Selection Committee. The selection is followed by a vote of over 100 skiing experts and enthusiasts who make up the National Voting Panel. In addition to the induction ceremony, a formal enshrinement will be held at the actual museum itself in Ishpeming, Michigan.
Original press release issued by Ski and Snowboard Hall of Fame Museum on April 20
Eight skiing greats added their names to the Hall of Fame's Honor Roll during an induction ceremony held at the Bell Harbor Events Center in Seattle on April 14. The class is made up of a broad spectrum of elite skiers, writers, ski industry leaders, and a passionate enthusiast for skiing history.
Headlining the inductees are 2002 Olympic silver medalist Joe Pack and 1985 World Championship bronze medalist Eva Twardokens. Also among those selected are ski area pioneers Phil Gravink and the late Nick Badami, ski historian Mason Beekley, speed skier and author Dick Dorworth, ski show pioneer Harry Leonard and World Cup and pro ski racer Tyler Palmer.
"Our eight inductees represent a diverse cross section of some of the greatest figures in skiing whose passion for the sport was shown throughout their careers," said U.S. Ski and Snowboard Hall of Fame Chairman, Bernie Weichsel. "The Hall of Fame is proud to recognize their achievements and contributions to our sport."
Biographies of the individuals making up the Class of 2011 follow in alphabetical order.
Nick Badami had a four-decade career in the ski industry as a business owner, executive and volunteer. His business acumen and leadership had a lasting impact across the entire spectrum of the sport. After retiring from a successful business career at the age of 49 he became involved in skiing supporting his son, Craig, who was a passionate skier. He bought Alpine Meadows Ski Resort and later Park City Resort. Within a few years he was appointed to the board of the National Ski Areas Association, becoming its Chairman in 1984. In 1994 he was the Chair of U.S. Skiing where he played a vital role in the transformation of the now U.S. Ski and Snowboard Association (USSA) as a highly respected Olympic sports organization. As chairman of Powdr Corporation he grew his resort holdings before retiring in 2003. In 1992 the USSA awarded him its prestigious Blegen Award. He served in key leadership roles on both, the Bid and Organizing Committees for the Salt Lake City Olympic Winter Games. Badami passed away in 2008.
Mason Beekley was a successful businessman and passionate skier who eventually directed that enthusiasm to the support of preserving skiing history. During his lifetime he developed an extraordinary library dedicated to skiing and possibly the world's best and most complete collection of ski art. This interest led him to form the International Skiing History Association in 1991, which today has over 2,000 members worldwide. Within two years the association was producing the highly regarded journal, Skiing Heritage, which currently is published six times a year. Through the rest of his life, Beekley, who died in 2001, contributed generously to ensure the support of the association and this publication.
Dick Dorworth was a ski racer, world speed record holder, coach, instructor and journalist. Through his writing he was, and remains, an inspirational leader for all who love the sport. He raced from 1950 to 1965 and was named to the collegiate All American team in 1962. In 1963 he set a record at the Diamond Sun event that still stands and that same year set a world speed record of 170 kph, in Portillo, Chile. He was a certified instructor in both France and the United States and coached the men's U.S. Ski Team during the 1970-71 season. He was the ski school director for the Aspen Mountain Ski School from 1988 to 1992. The publisher of several books on skiing and a recipient of an Ullr Award from the International Skiing History Association, Dorworth's articles have appeared in nearly every skiing magazine and journal.
Phil Gravink was a key player for 35 years at the national level in ski area management. After graduating from college he started out helping run his family's farm in New York State before founding an area known as Peek N Peak. Such was his success that the state appointed him as General Manager of Gore Mountain and later he held the same post at Loon Mountain in New Hampshire from 1977 to 1991 where, under his leadership, he developed Loon into a leading modern resort. He was also a key player in influencing the policies of the U.S. Forest Service. Gravink was on several key committees of the National Ski Areas Association serving as a director for 18 years and then as its Chairman in 1979-1980. In 1993, the NSAA presented him with its Sherman Adams Award for his contributions. Other honors have included the NSAA Lifetime Achievement Award in 2000 and the BEWI Award in 2006. He contributed significantly to several skiing safety innovations. For many years he was a Senior Associate with Sno-Engineering and continues to this day as a ski area consultant.
Harry Leonard was skiing's impresario, visionary and cheerleader during the 1960's and 70's. He was the inventor of the ski show, that vital annual institution that gets people thinking and preparing for the coming ski season each fall. He organized the first ski consumer show in Chicago in 1958, which was such a success that he organized one for Detroit in 1959 and New York City in 1960. By the mid-1960's he had shows right across the country. With his partner Jerry Simon, he brought to the shows a creative genius and enthusiasm that made them fun and entertaining. He pioneered the use of the Ski Dek that brought skiing right into his shows as well as great skiers who were the headliners for these events. Harry Leonard contributed enormously to the growth of skiing during the 1960's and beyond.
Joe Pack was one of the stars of the Salt Lake City Winter Olympics whose performance resulted in a silver medal in the freestyle skiing aerials event. Born in Oregon, he started his career as a ski jumper in New Hampshire. By the age of 12 he had moved to Park City, UT and switched to freestyle skiing, focusing on the aerials discipline and training at the newly created Olympic aerials training facility. Over his career he reached the World Cup podium 12 times, including three wins. He won two World Championship bronze medals to go along with his Olympic silver medal, which he won in front of his hometown fans at Deer Valley Resort in Park City. After retiring from skiing he became a professional golfer based in Hawaii.
Tyler Palmer was a dominant racer on the newly formed World Cup tour in the 1970's. In 1971, he was the first American male to crack the top three in overall points in the slalom. He won the Junior Nationals in 1969 and was on the Olympic Team at Sapporo in 1972, where he finished ninth. During his career he won two World Cup races, reached the podium four times and had nine top 10 World Cup results. Later he raced on Bob Beattie's World Professional Ski Tour where he won five races. A National Masters Champion several times Palmer was a coach for junior racers at Sun Valley until his retirement in 2010.
Eva Twardokens made her World Cup debut at the age of 17 in 1982. She was Ski Racing's Junior Racer of the Year in 1982 and 1983. She enjoyed a 12-year international career that included three podiums and 34 finishes in the top ten. Six of those finishes came at the World Championships where she won a bronze medal in the giant slalom event in 1985. That same year she was second in a World Cup super G event. Twardorkens was a two time Olympian finishing sixth in the GS in Lillehammer in 1994. In 1996 she won the World Championship for technical skiing, a judged event. Today she is a fitness advocate and holds a Masters National Weightlifting title.
The selection of the Class of 2011 was conducted by the U.S. Ski and Snowboard Hall of Fame's National Selection Committee followed by a vote of over 100 skiing experts and enthusiasts who make up its National Voting Panel. The placement ceremony will be held in September at the Hall of Fame in Ishpeming, Michigan.
Photo: Scott Brenner