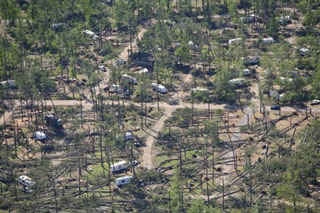 Lake Guntersville has yet to relinquish its title of North Alabama's top vacation spot despite three tornadoes that ripped through the park last year. The tornadoes had a major impact on the park's trees – 95% of the trees that once inhabited the campground and 65% of the trees on the golf course are now gone.
However, many have remained optimistic. "There was major damage to the park during the storms, but it is giving us the opportunity to rebuild a new and improved Lake Guntersville State Park," said Tim Wishum, Acting Co-Director of Alabama State Parks. "While we'd still rather have our trees, the view from the chalets and the lodge is fantastic."
The park's activities include Eagle Nest Golf Course (18 holes), 36 miles of hiking trails, 139 improved campsites with more coming soon, six primitive campsites, 18 chalets and five lakeside cabins, and of course, excellent fishing on Alabama's largest lake.
For more information about Lake Guntersville State Park, to make lodging or camping reservations, please visit www.alapark.com/lakeguntersville.
Photo: The Huntsville Times/Michael Mercier