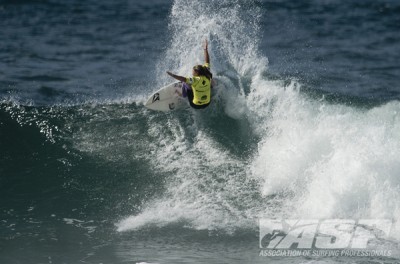 The 2012 Commonwealth Bank Beachley Classic ran through Rounds 2, 3 and 4 at Dee Why beach today. The stormy conditions seen over the past few days cleaned up, with clean four-to-six foot (2 meters) surf on the beach and the pointbreak.
Stop No. 4 of 7 on the 2012 ASP Women's World Championship Tour, the Commonwealth Bank Beachley Classic is run by seven-time ASP Women's World Champion Layne Beachley, who partnered with the Commonwealth Bank's Women In Focus initiative to bring this world-class event to Sydney.
Courtney Conlogue (USA), 19, 2011 ASP Breakthrough Performer of the Year, has caused the upset of the event thus far, eliminating reigning ASP Women's World Champion and reigning Commonwealth Bank Beachley Classic champion, Carissa Moore (HAW), 19. Conlogue is one of the most consistent surfers on tour, always posting big scores with her technical turns and snaps.
"Carissa (Moore) has been ahead of me on the numbers since we got on tour," Conlogue said. "It's nice to beat her. She's surfing great this year, I always look forward to watching her surf. Every single time I get to the Quarterfinals I either come up against Carissa or Steph (Gilmore). I'm really looking forward to tomorrow. I'm super excited I won that heat."
Moore conceded that her ASP Women's World Title defence campaign was all but over.
"I think that means I'm out of the race," Moore said. "Steph (Gilmore) has had a great year and I haven't. Sally (Fitzgibbons) is still in a good place too, so we will see what happens."
Coco Ho (HAW), 20, Lakey Peterson (USA), 17 and Moore put on an epic show for their Round 3 clash. The surf turned on with non-stop wave after wave for the 30 minute non-elimination encounter. All three of the surfers posted two excellent scoring rides, pushing their surfing to the limits in the hopes of skipping Round 4 and advancing directly into the Quarterfinals. Ho took the heat, with Peterson and Moore in 2nd and 3rd respectively in a tight heat that had all three women separated by a mere 0.50.
"It's been a hard beginning of the year for me," Ho said. "I don't know what happened. I've had a really unlucky few events. This heat on paper was by far my best of the year. It was crazy. It was finally one of those heats where the three of us could surf good waves constantly. I'm really happy that my luck has turned."
Malia Manuel (HAW), 18, 2012 ASP Women's World Championship Tour rookie, was one of the day's standout performers, using her powerful and stylish brand of surfing to clock some high scores. Manuel defeated four-time ASP Women's World Champion Stephanie Gilmore (AUS), 24, in their Round 3 non-elimination heat to advance to the Quarterfinals.
"It was a good battle," Manuel said. "There are some beautiful waves out there. I knew there were some good scores to be had. Steph (Gilmore) is amazing! She's my favourite surfer and I look up to her. There's a good ledge out there that pushes you when you take off, it's nice to have some fun, clean waves."
Laura Enever (AUS), 20, current ASP Women's World No. 5 and Sydney's Northern Beaches local advanced through a tough Round 2 heat against Wildcard Nikki Van Dijk (AUS), 17 this morning. Van Dijk finished equal 5th at last year's Commonwealth Bank Beachley Classic, and held the lead today over Enever for the majority of the heat. Enever held her nerve and posted a massive 8.25 (out of a possible 10 points), to take the lead and advance to the next Round.
"Nikki (Van Dijk) is incredible," Enever said. "I knew it was going to be a tough heat for sure. When I saw I was the top seed in Round 2 and she was the wildcard, I knew we'd match-up. I was pretty nervous, I'm not going to lie. I know how good she can surf. I'm so stoked I made it. It was really hard to choose the right waves and read which ones were going to be good. Layne (Beachley) has been amazing for women's surfing and for her to put on this event for us, with the most prize money on the ASP Women's World Championship Tour is amazing."
Sally Fitzgibbons (AUS), 21, runner-up to the 2011 ASP Women's World Title and current ASP Women's World No. 5, again impressed the judges with her superior wave selection and sharp execution. Fitzgibbons will now face Conlogue in Quarterfinal 4 when competition resumes.
"I am stoked to be through to the Quarterfinals," Fitzgibbons said. "It was always going to be a good battle with Woodsy (Rebecca Woods) and Courtney (Conlogue), they're both surfing really well at the moment. It's always nice to be fresh heading into the Quarterfinals. I feel like I've got a lot of energy which is good considering we've had so many events back-to-back. It's a nice feeling having the confidence knowing that I can post some big scores."
Justine Dupont (FRA), 20, 2012 ASP Women's World Championship Tour rookie, missed the first event of the year due to injury and then finished equal 13th at the following two events. Today she made it through her first heat of the year defeating Paige Hareb (NZL), 21, in Round 2. Dupont was elated with her first taste of success as a member of the elite Top 17. Dupont then lost to Gilmore in Round 4, taking home an equal 9th place finish, while Gilmore advanced to the Quarterfinals.
The event will be webcasted live via http://www.beachleyclassic.com