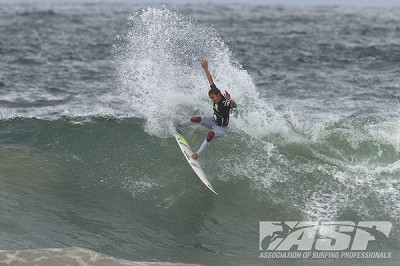 The 2012 Commonwealth Bank Beachley Classic got off to a sensational start in Sydney today. The tricky four foot (1.5 meters) surf, at the world famous Dee Why point offered up the perfect challenge for the world's best female surfers to show what they're made of.
Stop No. 4 of 7 on the 2012 ASP Women's World Championship Tour, the Commonwealth Bank Beachley Classic is one of the most exciting stops on tour, offering the biggest prize-purse and the prestige of surfing in an event run by seven-time ASP Women's World Champion Layne Beachley.
Sally Fitzgibbons (AUS), 21, runner-up to the 2011 ASP Women's World Title and current ASP Women's World No. 2, amassed the highest two wave heat total of the day – 18.65 (out of a possible 20). Fitzgibbons attacked every section with massive turns and was rewarded with near perfect scores to advance directly into Round 3.
"It's a really good way to start the event," Fitzgibbons said. "You always want to start a new campaign strong. It's tricky today, you really have to pick those double-ups, the real meaty ones. It was a good battle with Malia (Manuel), she was dropping high scores too. It always feel nice to post a couple of 9-point-rides. It's rewarding to have the judges appreciate what you're doing. I just wanted to throw those bigger turns in the biggest sections, that's where you get the big scores. It's great competing here in Sydney, it's the closest event I have to my home on the South Coast. My friends and family came up and it's great to have that support."
Stephanie Gilmore (AUS), 24, four-time ASP Women's World Champion and current ASP Women's World No. 1, defeated two of the youngest surfers in the field in her opening heat, wildcard Nikki Van Dijk (AUS), 17, and Sarah Mason (NZL), 17. Gilmore and Mason both had close encounters with the infamous Dee Why reef, Mason was clearly shaken with bruising and scratches to her face.
"The direction of the swell is straight onto the reef," Gilmore said. "I took off on the first one and slammed onto the reef and I cut my elbow. When I turned around Sarah (Mason) was holding onto her face. You switch from heat mode to going and asking if she's ok. She slammed her face on the reef which isn't nice and it rattles you a little bit. You second guess which ones to take off on."
Lakey Peterson (USA), 17, ASP Women's World Tour rookie and and current ASP Women's World No. 6, won the opening heat of the 2012 Commonwealth Bank Beachley Classic over Pauline Ado (FRA), 21, and Laura Enever (AUS), 20. Peterson is going from strength to strength in her first year on tour, climbing up the ratings at each event.
"The waves were really tricky," Peterson said. "When the right ones come you just had to be on them. I got lucky. I've never surfed Dee Why, it was good to get my feet wet and make it through that first heat. Right now a big goal of mine is to finish the year as ASP Rookie Of The Year. You're only a rookie once and I want to make the most of it. Layne (Beachley) is one of the biggest names in women's surfing. She's such a nice person and she's putting on a great event for us. Before my heat she came up to me and gave me some words of wisdom and I was pretty stoked about that."
Tyler Wright (AUS), 18, posted a dominant performance in her opening heat today, and sealed the heat with a massive score at the end – 9.15 (out of a possible 10). Wright won the Commonwealth Bank Beachley Classic as a 14-year-old wildcard, and is now a full-time competitor on the ASP Women's World Championship Tour, currently rated No. 4 in the world.
"I'm happy with how I put that heat together," Wright said. "I feel like I've been fairly consistent on tour this year and I'm having the most fun I've ever had. I also feel like my surfing is the best it's ever been. I've had some great match-ups against Laura (Enever) and Steph (Gilmore) and I'm really enjoying it. When I won this event when I was 14-years-old, I was awestruck by everything that was going on. I was really enjoying my time that year and I'm going to try and do the same thing this year."
Carissa Moore (HAW), 19, reigning ASP Women's World Champion and winner of the last event in New Zealand survived a scare in her opening heat. Moore was trailing fellow Hawaiian Coco Ho (HAW), 20, for the majority of the battle, but found a wave in the dying minutes that netted her the required score.
"I'm really relieved right now," Moore said. "It's really important to win that opening heat and skip that second round. I wasn't sure if I'd get the score because I fell on my last move, I'm super stoked. I really like surfing with Coco (Ho), we've surfed against each other since we were little girls. We travel together all the time."