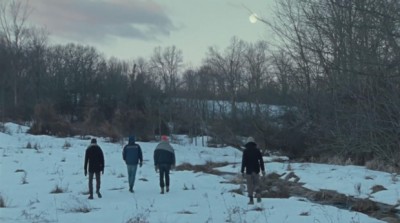 The filmmakers of the new indie thriller First Winter are currently under investigation in New York for killing two deer on-set outside of hunting season and without a permit.
A spokeswoman for the New York Department of Environmental Conservation (DEC) said the agency is looking into the incident, but has not released further information. The penalty for hunting a deer without a permit is a fine up to $2,000 and/or imprisonment.
"We are idiots. We didn't know how to do this [hunting] stuff," director Ben Dickinson told Manhattan-based DNAinfo.com. "There were so many deer weak from the winter and getting eaten by local dogs we didn't even think about it."
The film premieres at the Tribeca Film Festival in New York today, but the festival has canceled red carpet plans for First Winter (that may not be connected to the illegal shooting, the film's publicist says the festival cancels many red carpets). The movie is about a group of Brooklyn hipsters who head to a remote country farmhouse in New York living a life of sex, drugs, yoga and organic cooking. Then an apocalyptic blackout strands them without heat or electricity during the coldest winter on record and they must work past power struggles, jealousy and the struggle to survive – hence where the killing of the deer comes in.
In an interview at Tribeca, the director was asked about the "lightning strikes" moment when they took the deer on camera. Dickinson said, "The hunting of the deer was an incredibly trying and intense process. We spent days and days walking around in the cold, and at a certain point even considered cheating in some way [faking the kill]. But in the end, I was convinced that it had to be authentic, and I was prepared to change the story if need be. I would recommend dressing an animal to anyone, especially if you eat meat or wear leather; it changes your perspective."
Dickinson said it took them several days to even find a deer. One day, as they were practicing yoga inside the farmhouse, someone spotted a herd of deer in the neighboring field. They grabbed a rifle and ran outside. Actor Paul Manza, who plays the 34-year-old yoga instructor, who had no prior hunting or acting experience, pulled the trigger.
The bullet pierced and killed one deer and passed into a second behind it, wounding the second. To put it out of its suffering, the crew chased it down and shot it again. Then, they skinned one of the carcasses, cut it up and cooked it over an open fire for the camera.
After the fact, Dickinson did not think about the legality of hunting deer and simply didn't secure a permit to do so. The film's publicist, Jenny Lawhorn, is in discussions with the DEC, but a spokeswoman from the DEC doesn't have any additional comments at this time.