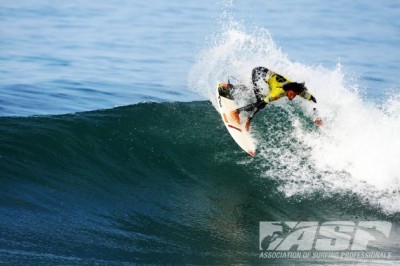 The ASP 3-Star Protest Vendee Pro will kick-off tomorrow morning in Vendée. A field of over a 100 competitors will gather for the opening day of competition. A first call will be made at 9am at the secondary site of Les Dunes for a possible start shortly after.
With a better outlook on the forecast for the remainder of the week, Julien 'Vico' Hamel gives us an estimated schedule and forecast for the Men's event, set to start tomorrow morning in difficult conditions.
"We have a complicated situated here, the rest of the storm will come through tonight so tomorrow morning should still be pretty chaotic with up to 4.5 or 5m swell early in the morning." Stated Vico. "The swell is decreasing fast during the morning so we might be able to start relatively early. The good thing is that we should be able to surf here at La Sauzaie at low tide, but for now we're still considering both sites of La Sauzaie and the back-up site of Le Dunes."
The 2012 edition of the Vendee Surf Pro is facing a global depression hitting the whole Atlantic coast of France and surfers entering the event are up for challenging heats and physical battles out in stormy seas. The first round of competition will see an unusual crowd of seasonned European competitors including the likes of Jean-Seb Estienne (BLM), Frederic Robin (FRA) and Didier Piter (FRA) against young up-and-comers like Charles Martin (GLP) or Charly Quivront (FRA), all battling it out to try and qualify to surf more rounds of competition.
Julien Hamel confirms the Protest Vendée Pro is almost certainly starting early Thursday morning.
"Tomorrow around 9am conditions should be similar to what we have right now with less wind. I checked Les Dunes this morning and even with an extremely low tide it was surfable. Basically we'll meet early in the morning, and when the surfers, the ASP staff and us all agree on when to start, we'll try to launch the event."
Most of the European contingent will be here in this opening event of the season in Vendee, and with conditions looking to improve through the end of the week, everything is set for an amazing show.
"Friday should be easier with the swell dropping from 14 to 8Ft and a little bit less wind, and conditions are looking to stay the same for saturday." Said Julien Hamel. "Sunday will most likely see another storm coming to us here in Vendee. Conditions evolve quickly in a storm setup like this, so we need to regularly assess the evolution and take it day by day. One thing is for sure, we'll have a constant onshore wind for the whole waiting period of this event, and probably on-and-off rain."
The official call is for a 9am meeting between organizers and surfers tomorrow morning at the back-up venue of Les Dunes to decide where and when the first round of competition will start. The Protest Vendee Pro is scheduled from April 19-22, 2012. For more information, and all upcoming results, photos, video highlights, press releases and LIVE webcast log-on to www.aspeurope.com