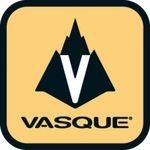 Dedicated to keeping hikers' feet comfortable on the trail for over 45 years, Vasque continues its commitment to trails by renewing their sponsorship of American Hiking Society's Volunteer Vacations program.
In 2012, American Hiking Society is offering over 50 trail building trips for volunteers to Get Out and Give Back and enjoy the outdoors. From Alaska, to Maine, to the US Virgin Islands, the program offers diverse vacation opportunities for all levels of hikers.
Volunteer Vacation crews usually consist of 6-15 volunteers, guided and supervised by an experienced crew leader. Food, park entrance fees, campsite or cabin use, tools and a one-year membership with American Hiking Society are all included in the registration fee.
"We are proud to be sponsors of the American Hiking Society for another year," states Chris Miller, National Sales Director, Vasque. "We hope, that with this partnership, Volunteer Vacations can get more people out on the trails helping to preserve and maintain our natural resources for everyone's use. Equally important is that volunteers can get out and enjoy the outdoors with their families and friends while at the same time giving something back. It's a win-win for outdoor lovers and the outdoors."