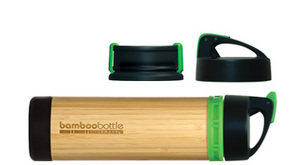 Following the launch of the Bamboo Original reusable bottle, with enhanced CLASSIC TOP, FLIP TOP and new HOT TOP, Bamboo Bottle Company announces that they will offer optional accessories with purchase for their Original line of BPA-free, glass bottles.  Consumers can now choose tops as separate or bundled sets and buy the complete Sustainable Kit package.
"From the beginning we had expansion plans for both our bottle and accessory offerings," states Senior Vice President Patrick Carland. "This marks the first of many product evolutions here at Bamboo Bottle Company. We are proud to offer multiple unique BPA-free, glass drinking options and features that appeal to every customer need."
Each Bamboo Bottle Company beverage top provides the user with a unique drinking experience depending on customer preference and use situation. The new HOT TOP transforms the reusable bottle into an excellent travel mug for coffee or other warm beverages, the enhanced CLASSIC TOP screws on easily and seals to offer a leak proof way to carry your hot or cold drink of choice, and the FLIP TOP provides a convenient lid for effortless sipping while on the go or at the gym. For customers desiring to purchase one bottle and all three tops as a complete set, the Sustainable Kit will fit this need. The Sustainable Kit includes one Bamboo Original bottle along with one FLIP TOP, CLASSIC TOP and HOT TOP.  All Bamboo Bottle Company products are BPA-free, glass bottles that are protected by a sustainable bamboo sleeve.