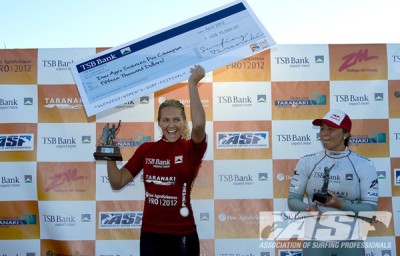 Stephanie Gilmore (AUS), 24, has won the TSB Bank NZ Surf Festival's blue ribbon event, the Dow AgroSciences Pro in clean three foot (1.5 meters) surf over Carissa Moore (HAW), 19, at Taranaki, New Zealand today.
Stop No. 3 of 7 on the 2012 ASP Women's World Championship Tour, the TSB Bank NZ Surf Festival offers vital points in the race for the ASP Women's World Title. This year the event scored the best waves and also witnessed the biggest performances in its three year history, with classic waves on offer for the duration of the competition.
Gilmore, four-time ASP Women's World Champion and current ASP Women's World No. 1, finished 9th at the TSB Bank New Zealand Surf Festival both in 2011 and 2010, but today took top honours in an exciting Final. Gilmore and Moore were extremely evenly matched opponents, with both surfers trading excellent scores, going back and forth, finishing the 35 minute duel separated by only 0.70.
"This is by far the best start to a season I've had in my career," Gilmore said. "To have three Finals straight off the bat, I'm kind of tripping out. It's really cool. That was a really close Final, I'm sure it could have gone either way. I watched Carissa's (Moore) wave from behind and she did that huge first turn and then raced to the next section, but if she did another turn straight away, I'm sure she would have gotten the score. I'm glad it went my way though."
Moore, reigning ASP Women's World Champion, has an excellent record at the TSB Bank New Zealand Surf Festival. She won the inaugural event in 2010, then finished runner-up in last year's Final and today made her third Final appearance in three years.
"I just let a couple of waves go under my priority," Moore said. "I didn't think they'd offer that much, but Steph (Gilmore) did a really good job. You can't discount her, she's won four ASP Women's World Titles. It's nice to be up there again. I really like this event, I have a really great support team and there's a lot of love here. I'm really stoked. Each event and each year is a clean slate and something different and I'm trying my best to get better with each one."
Paige Hareb (NZL), 21, the hometown hero, finished equal 3rd today after losing to Gilmore in the tight Semifinal. Hareb held the lead for the majority of the heat, until Gilmore caught one of the best waves of the day, pulled in to a clean barrel and punctuated the ride with two massive turns. This equals Hareb's best result on the ASP Women's World Championship Tour and has moved her up the ratings to 7th in the world.
"You get pretty pumped having the support of the hometown crowd," Hareb said. "I lost my breath out the back and had to relax and take a few deep breaths. Looking back from the water and seeing friends and family and everyone from Taranaki was cool to see. I'm glad the weather and waves have been great for everyone. In the Semifinal that one bomb wave came through and Steph (Gilmore) happened to have priority at the time. I couldn't do anything about it. I was just left sitting out the back watching her rip it apart all the way to the beach. I'm pretty competitive, so I'm happy with the result. I'd like to get at lest another 3rd in one of the remaining events this year."
Lakey Peterson (USA), 17, has been a standout performer all week at the TSB Bank NZ Surf Festival, consistently posting excellent scores with her classic Californian style. She eliminated last year's runner-up to the ASP Women's World Title, and defending TSB Bank NZ Surf Festival event champion, Sally Fitzgibbons (AUS), 21 in the Quarterfinals. Peterson then narrowly lost in the Semifinals to Moore, and takes home an equal 3rd place finish, her best result thus far in her rookie year on the ASP Women's World Championship Tour.
"It's my best result this year so I can't be too bummed," Peterson said. "A 3rd is really good for me. The waves are super fun, but I kind of fell apart in that heat. Earlier I think there was more rights, but in that one it was more lefts. I'm not bummed about my performance, but it's hard to come that close to a Final and not make it. It's good when I surf against girls like Carissa (Moore), Steph (Gilmore) and Sally (Fitzgibbons) because it pushes you to surf way better. I'm stoked because we got really good waves for the whole contest, which doesn't always happen."