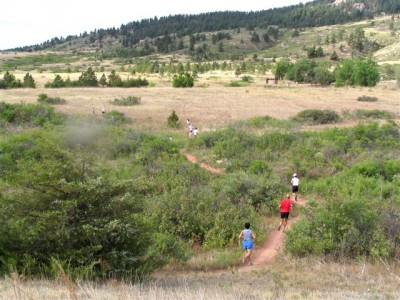 Lory State Park will host the inaugural "Quad Rock 50 Trail Race" on Saturday, May 12. The trail running race will start at 5 a.m. at Soldier Canyon Group Picnic Area. The runners will have the option of completing one 25-mile loop from Lory State Park into Horsetooth Mountain Park and back to Soldier Canyon. Or, runners have a second option – completing a second 25-mile lap on the course to get the full 50 miles.
This trail race will be a true test of the strongest of trail runners. For registration or further information for the race please visit http://gnarrunners.com/quad-rock-50/. All spectators driving into Lory State Park will be required to purchase a Colorado State Parks Pass, $7 for a daily pass or $70 for an annual pass, good for 12 months at all state parks.
Lory State Park, located in beautiful Bellvue, Colorado, offers visitors a variety of rugged terrain and the stunning vistas of the northern Colorado Front Range. The park covers almost 2,600 acres and features 26 miles of trails that lead through forest, meadows and rock-outcroppings, offering visitors great terrain for mountain biking, hiking, rock climbing, bouldering, and horseback riding. Additional information on Lory State Park is available at: www.parks.state.co.us/Parks/Lory.