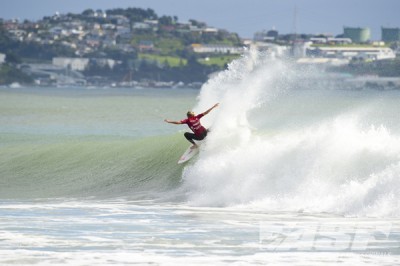 After two consecutive days of surfing at the TSB Bank NZ Surf Festival featuring the Dow AgroSciences Pro, a lay-day has been called due to unfavourable winds. The surf forecast for tomorrow looks promising and contest officials will meet at 7:30am to assess the conditions.
Stop No. 3 of 7 on the 2012 ASP Women's World Championship Tour, the Dow AgroSciences Pro is pivotal in the chase for the prestigious ASP Women's World Title. There are only two more heats of Round 4 remaining before competition enters the Quarterfinals and it's likely that an event champion will be crowned tomorrow.
Craig Williamson, TSB Bank New Zealand Surf Festival Director is excited about the forecast for tomorrow after witnessing a fantastic day of surfing yesterday.
"We're having a day off competition today," Williamson said. "There are some waves out there at the moment, but the winds are expected to get quite strong onshore later in the day. Then we have bigger swell and more favourable winds forecasted for tomorrow. We're excited to see what will happen with the remaining heats in the event. Yesterday was one of the best days of competition we've ever seen at this event. It's great to see the women pushing the sport to new heights."
The TSB Bank NZ Surf Festival featuring the Dow AgroSciences Pro holds a waiting period from April 11 through 15 and will be webcast LIVE via http://nzsurffestival.co.nz