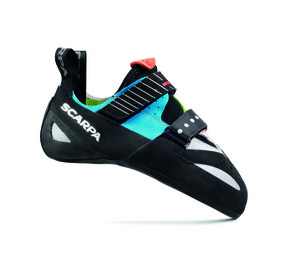 New 2012 rock and approach shoes from SCARPA earned two Editor's Choice awards from Urban Climber magazine and a five-star review from Rock and Ice in the last two months. The Boostic, SCARPA's newest high-end rock shoe, earned two awards, while the Crux, the newest addition to the approach line, earned one.
The Boostic caught editors' attention for great fit, excellent power, and all-around performance for harder climbing.
"The Boostic is an all-around outstanding shoe," wrote Urban Climber Editor Andrew Tower in giving the Boostic a 2012 Editor's Choice Award. "It has everything I like: a simple heel, powerful, downturned toe (but not too intense), Velcro closures, leather uppers, precise edging, and great power."
The shoe also earned a five-star review from Rock and Ice in the April issue.
"The Boostic is a contender for my new favorite high-performance shoe," Senior Editor Andrew Bisharat wrote. "Supportive but sensitive, with a near-perfect suction cup fit, the Boostic is my go-to slipper for hard routes and boulder problems."
In addition, the Crux won a 2012 Editor's Choice award from Urban Climber.
Gear Editor Julie Ellison called them "beyond comfortable" and said they "have proven sturdy and sticky from slabby approaches and snow-covered trails to deep mud and boulder-hopping."
The latest creation from rock-shoe mastermind and SCARPA Climbing Line Manager Heinz Mariacher, the Boostic balances toe power, edging and sensitivity for tackling the highest-grade sends. It employs V-Tension rands, which run from under the forefoot to around the back of the heel. When combined with a full sole, V-Tension rands provide optimal foot support in a design that maximizes sensitivity. A unique sock-like closure with floating Velcro straps provides excellent fit and support on a wide variety of foot shapes. Construction of the upper is suede and Lorica®, strategically placed in the forefoot and heel pocket. Lorica is a synthetic leather that conforms to the foot but doesn't stretch out. A special high-friction patch aids toe hooking, and Vibram XS Edge rubber provides the right balance of stickiness and durability underfoot. The shoe costs $170 .
The Crux is an approach shoe that uses a webbing rib cage reinforced with Kevlar for forefoot security. Suede construction molds to the foot over time, and it also employs the exclusive new Vibram Vertical approach sole, designed to simultaneously climb more effectively and provide better traction for descending loose terrain. It costs $99.