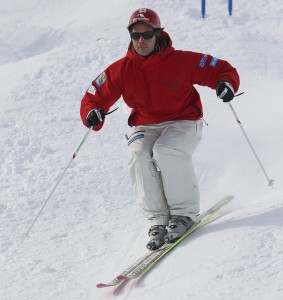 He is an icon in the mogul world. An iron man who boasts 147 FIS World Cup starts with 23 podiums; a World Championship title; and, a fifth place finish at Winter Olympic Games. Now, after 15 years on the Canadian National Freestyle Ski Team, Pierre-Alexandre Rousseau has finally found something to surpass his passion on the slopes.
Skydiving.
Rousseau, 32, announced last week that he is retiring from the National Team and moving on to a career in the clouds.
"My first sky dive was in 1998; at that time it was just a hobby in the off season. Skydiving was always the thing that could get me out of my small depression after the end of the competitive season. Then in 2007 I started BASE jumping which only added to my passion," said Rousseau.
He said he had explored numerous other post-competition vocations, but none were enticing enough to draw him away from the slopes, until now.
"Jean-Luc Brassard once told me 'the day that you're going to be finished, you're going to know. The day it's over, it's over.' I never felt that day before. But this year, just before the dual event at Deer Valley (in February) I got to the top and I felt it. I said to myself, 'wow, that's it, I'm not skiing any more,' and I felt it so strongly partly because my passion for my other project grew bigger in me than what I have for skiing. I just knew. I skied down to my coach (Rob Kober) I told him it's over. He was very surprised, but then he saw that I was serious and told me it had been a pleasure and an honor to be with me for those years and that he respected my judgment.
"Now my life will revolve around professional skydiving and BASE jumping and teaching. I'm so lucky and so grateful because so few athletes who retire have something that can drive them with more passion than their sport."
The Drummondville, Que. native leaves an impressive ski legacy, not just in his medal tally, but also in his ability to endure and prevail and to perform at a phenomenal level right up to the end of his career.
Canadian Freestyle Ski Association CEO Peter Judge, was Rousseau's coach at one time, said, "When he was on, he was on. What has defined (Rousseau) is his remarkable feel and touch for the snow which has made him an unbelievable skier. He moves the ski on all dimensions to the extent that he actually becomes part of the terrain. It's very, very rare to have that ability … the quality of his skiing was so high that nobody, or very few people, could hold a candle to him. To make something so difficult look so easy at such an incredibly high speed, that's talent."
One of Rousseau's other legacies is his ability to endure. In 2002 he broke his back a month before he was set to compete in the Salt Lake Games. Then, a quadrennial later he failed to qualify for the 2006 Torino Games after a couple of seasons of poor performances. But a year later he surprised everyone by coming back to win the 2007 World Championships. "It came at a moment when everyone thought I was finished," said Rousseau of the career highlight, "but I proved to myself that I could do it."
That winning attitude brought him all the way to the Vancouver Games where he vanquished his Olympic demons and finished in fifth after one of the best runs of his career – a run that Judge said arguably could have put him in the medals.
"In the long run I am leaving with a lot of success," boasted Rousseau who is proud of the fact that he has never had knee surgery.  "Managing my body and my health was my job.  I just preserved my machine to make sure I was successful and happy.  Now I get out of this healthy, I'm blessed."