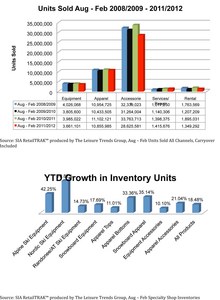 SnowSports Industries America (SIA) and The Leisure Trends Group released the most recent RetailTRAK numbers for February 2012, collected from the Point of Sale systems of more than 1,200 snow sports retailers. Overall, snow sports retail sales are down 12% in units sold and down 4% in dollars sold, totaling $3.2B through the end of February. Equipment and accessories sales tumbled as snow conditions remained less than ideal throughout every region except for the Northwest. In fact, the lack of skiers and riders at resorts was apparent in the 30% decrease in rentals at retail shops.
Inventories are telling the story of the market this season including a 42% increase in alpine equipment inventory levels at specialty shops, a 70% increase in cross country ski equipment, 35% increase in snowboard apparel and a 33% increase in alpine apparel bottoms inventories. Retailers are scrambling to move snow sports gear out their doors and avoid the physical and financial burden of carrying it over the summer. Expect to see prices and margins fall in the final weeks of the season which appear to be happening much earlier this season than last season when winter continued through April.
Sales by Category
Total sales through all snow sports retail channels Aug – Feb = $3,180,513,167; down 12% in units, down 4% in dollars sold.
Equipment Sales – down 8% in units and 3% in dollars sold
Apparel – down 2% in units and flat in dollars sold
Accessories – down 15% in units and 8% in dollars sold
Services/Repair – up 1% in units, up 3% in dollars sold
Rental – down 16% in units rented, down 5% in dollars sold
Regional Sales Trends
Regionally, snow sports specialty shop sales are tracking with the weather. Specialty sales in the West held steady through February and the Northeast specialty shops suffered most. Western region specialty sales are up 1% to $657M while sales in the Northeast are down 11% to $496M, more than $60M less than sales through February last season. Additionally, Midwest sales are down 6% in dollars to $290M, and sales in the South, where so many destination skiers and riders reside, are down 9% to $282M.
Sales by Channel
The Internet is proving to be the channel to watch in a difficult snow year. Online retail sales are up 11% in units sold and up 12% in dollars sold through February. Retailers like Backcountry, Skis.com, EVO, REI online and other snow sports retailers with commerce enabled web services brought in $670M through February this season surpassing last season's Aug – Feb sales by more than $70M.
Specialty Shop Sales – down 14% in units sold and down 5% in dollars sold to $1.8B
Chain Store sales – down 18% in units sold and down 12% in dollars sold to $691M
Online/Internet Stores – up 11% in units sold and up 12% in dollars sold to $669M
Trends to watch in 2011/2012
Inventories are up more than 18% overall in specialty shops through February. In specialty inventories there is 39% more alpine equipment, 76% more cross country equipment, 17% more snowboard equipment, 37% more snowboard apparel, 36% more alpine bottoms, and 15% more accessories. Retailers will be pushing hard to move snow sports product out their doors before the season closes.
Skiers and riders have spent $1M more this season to service their equipment at retail shops as poor snow conditions may have discouraged new ski and board purchases. Consumers are choosing to work with what they have on poor snow.
Poor snow and lackluster participation are showing up clearly in the rental category. Rental revenues at retail are down almost $3M compared to last season and 29% fewer units had been rented through Feb this season.
Reverse/mixed camber skis sales increased 83% so far this season and now account for 25% of all alpine skis sold. Last season reverse/mixed camber skis accounted for just 15% of all skis sold.
Nordic equipment sales are suffering acutely from lack of snowfall; sales are down 32% in units and 28% in dollars sold.
Reverse camber/rocker snowboard sales continue to rise. Unit sales of rocker boards are up 9% in units and 7% in dollars sold. In fact, 73% of all snowboards sold through February have reverse camber.
Alpine top sales are healthy this season, particularly women's insulated parkas up 11% in units and 10% in dollars sold to $186M, and men's soft-shell tops are up 13% in units sold and 18% in dollars sold to $67M.
Accessories sales are showing the weather pattern, particularly for items normally purchased when preparing for an imminent trip to the slopes including goggles and wax. Goggles sales are down 21% in units sold and 14% in dollars sold and wax sales are down 24% in units sold and 16% in dollars sold.
The market data presented in this report comes from the Snow Sports RetailTRAK produced for SIA by the Leisure Trends Group. The Leisure Trends Group gathers RetailTRAK data directly from the Point of Sale systems of more than 1,200 snow sports retailers. For more information about snow sports retail sales information and other SIA Research products including the Snow Sports Participation Study, Revisiting Growing the Snow Sports Industry, the Snow Sports Uniform Purchasing Study, the Snow Sports Rental Equipment Survey and much more, please contact Kelly Davis, SIA's Director of Research at [email protected].