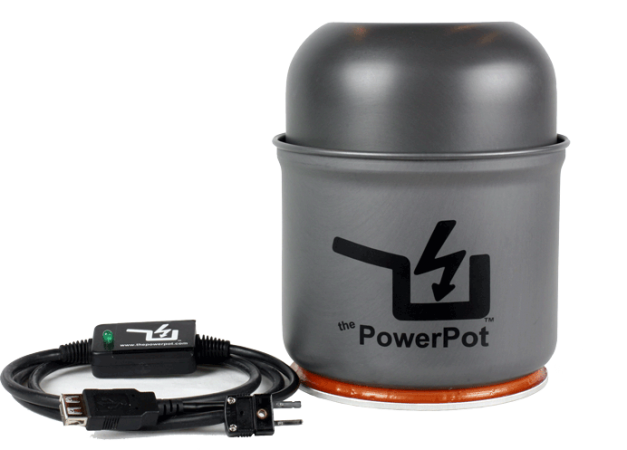 Following the trend of new outdoors products that seek to provide multi-purpose tools for the "wired" outdoorsperson, the PowerPot has entered the fray. The product was designed by materials science engineers who are avid campers. The PowerPot works on the principle of the Seebeck effect – essentially, the thermoelectric generator at the base of the pot creates a voltage when there is a temperature difference between the two sides of the plate.
The PowerPot will be available with an assortment of accessories, including an anodized aluminum bowl/lid which can be used to fry bacon. Also available are LED goose-neck lights and adapters to charge cell phones and more. Depending on the PowerPot type, even larger electronics like tablet PCs may be charged. Read more below the video.
Original press release issued by PowerPot on April 4th, 2012:
Power Practical, a Salt Lake City start-up, has developed a game-changer for off-grid living and recreation. Simply put, the PowerPot transforms heat from a fire into electricity. This new take on a lightweight backpacking pot will provide electricity anywhere, anytime, using any fuel, such as propane, gas, or open wood fires.
The PowerPot uses thermoelectric power, originally developed to power satellites, to generate electricity. Like solar power, thermoelectric generators operate with no moving parts, but they are powered by heat instead of light. This means the PowerPot is not dependent on sunlight and will work in any weather, at night, and indoors. All the PowerPot needs to generate power is heat and water.
The PowerPot has a USB output and is currently available in two sizes, both of which were launched April 4th on the crowdsourcing site kickstarter.com. The PowerPot V is a backpacking model that produces up to 5W of electricity and weighs less than a pound. This model will fully charge everyday handheld devices such as cell phones and mp3 players in 60-90 minutes. The PowerPot X is a larger model, the size and weight of a typical kitchen cooking pot, with a 10W output. The PowerPot X can charge more power-hungry devices like tablets. Supporters through kickstarter can order a PowerPot for themselves for $125, donate one to Africa for $99 or both for $199.
"There are over 200 million people in Africa that use cell phones but lack access to electricity. Some must walk over a mile and spend over 15% of their monthly income just to charge their phone," said Power Practical CFO Caleb Light. "It is difficult to keep in touch with loved ones or do business off-grid. Since most people faced with this problem cook on an open fire, the PowerPot fits perfectly into their routine."
PowerPot is a useful solution for recreation and emergency preparedness. Backpackers can replace a typical backpacking mess-kit and charge GPS units, headlamps, water purifiers, and cell phones. Many will find it useful as a just-in-case measure for power outages. Those equipped with propane stoves, wood stoves, or fire pits will be able to turn on a dead phone within minutes using the PowerPot.
Photos and video: Power Practical