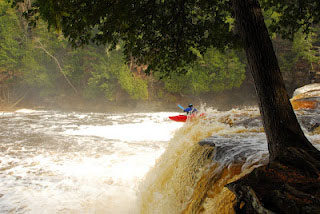 Midwest river flows have come a month earlier this year with minimal snow levels and warm days. Many boaters were propelled to hit the water quickly if they were to have any chance of making a run. Paddlers also had to deal with ice in the rapids as it was pinned to the bottom in different areas. Luckily, the major drops were void of ice.
With spring coming earlier this year around the nation, outdoorsmen in all venues are seeing and feeling the results. One advantage: those with the means to head out for the river or the woods probably did not encounter as many other people as they normally would.
Check out these YouTube clips of kayakers running Patawatomi Falls on the Black River in Michigan's Upper Peninsula. The action is intense and the music quirky. Perfect.
Video 1:
httpv://youtu.be/aKfm3wDvAgs
Video 2:
httpv://youtu.be/k61i4Ix8RSM