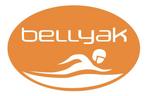 As you look to the water this spring, be prepared to see a new kind of boat afloat! Bellyak, out of Asheville, NC, is launching a new type of kayak that will enable all levels of water lovers to explore, ride, surf and play in their favorite rivers, oceans and lakes.
More details to come soon, but the revolution begins now! The mastermind behind Bellyak, Adam Masters, has deep family roots in the paddlesports industry.  In the past few months, Masters has been busy finalizing boat molds, putting the finishing touches on the website, organizing demo events, formulating dealer packets and strategizing with appointed public relations firm, Darby Communications, to prepare for the introduction of this revolutionary sport to the masses. With Bellyak, Masters has created an innovative product to shorten the whitewater learning curve and eliminate concerns about feeling 'trapped' in the boat.
"This is going to be one of the most original product debuts at Summer Market and we are truly excited to be a part of it," says Darby Comm founder, Coral Darby. "The Bellyak, from Masters, will change the face of kayaking; making it accessible to everyone."
Bellyak debuts their line of face-first kayaks at Summer Outdoor Retailer. Look for demos throughout the Southeast this spring and summer, at events such as the NOC Freestyle Shoot Out on April 21st and the 15th Annual French Broad River Festival.