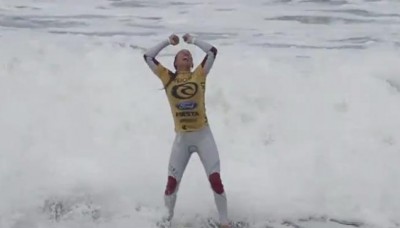 The Rip Curl Women's Pro Bells Beach enjoyed a week's worth of excellent waves and the world's best female surfers rose to the occasion in fine fashion. In a hard-fought final, it was Fitzgibbons who was able to stave off a late charge from Gilmore and claim the Rip Curl Women's Pro Bells Beach for the second year in a row.
Gilmore, who appeared to be the form surfer of the event, was disappointed to not come away with the win, but her Runner-Up finish further cements her position as current frontrunner on the 2012 ASP Women's World Championship Tour ratings.
"I'm a little bit tired but feeling good," Gilmore said. "I felt like I was surfing pretty well and knew it was going to be a hard road. I thought I was consistently putting things together and surfing well and then I came up against a brick wall in Sally (Fitzgibbons). It was a good Final and Sally deserved this win and she's great for women's surfing. Congrats to her."
Tyler Wright (AUS), 18, into her sophomore year amongst the women's elite, was in sensational form all week, but the young natural-footer would ultimately fall to Gilmore in today's Semifinals. Today's Equal 3rd matches an Equal 3rd from the season-opener on the Gold Coast and Wright firmly sits at No. 3 on the 2012 ASP Women's World Championship Tour ratings.
"It's frustrating going down to Steph (Gilmore) in that fashion but she's really a tenacious competitor," Wright said. "She's so casual on land and we train together occasionally, but once she's in the water, she's really a dominant competitor. I feel like I'm surfing well though and an Equal 3rd is a good result. Looking forward to the next one."
Carissa Moore (HAW), 19, reigning ASP Women's World Champion, was another standout throughout the Rip Curl Women's Pro Bells Beach, but would ultimately fall to eventual winner Fitzgibbons in the Semifinals.
"Semifinals is a good result but I'm disappointed in my performance there," Moore said. "Unfortunately I couldn't really get into a rhythm in that last heat, but it's a keeper result and I'm looking forward to heading to New Zealand next week and hopefully posting a big result there. I love the waves and the people there and feel really comfortable in Taranaki."
The next stop on the 2012 ASP Women's World Championship Tour season will be the TSB Bank NZ Surf Festival featuring the Dow AgroScriences Pro in Taranaki New Zealand from April 11 – 15, 2012. For more information, log onto www.aspworldtour.com
httpv://youtu.be/bOFPvQbUKpY
RIP CURL WOMEN'S PRO BELLS BEACH FINAL RESULTS:
1 – Sally Fitzgibbons (AUS) 10.76
2 – Stephanie Gilmore (AUS) 10.33
RIP CURL WOMEN'S PRO BELLS BEACH SEMIFINAL RESULTS:
SF 1: Stephanie Gilmore (AUS) 17.10 def. Tyler Wright (AUS) 14.77
SF 2: Sally Fitzgibbons (AUS) 15.27 def. Carissa Moore (HAW) 11.50
RIP CURL WOMEN'S PRO BELLS BEACH QUARTERFINAL RESULTS:
QF 1: Tyler Wright (AUS) 16.63 def. Sarah Mason (NZL) 15.93
QF 2: Stephanie Gilmore (AUS) 17.80 def. Malia Manuel (HAW) 14.83
QF 3: Carissa Moore (HAW) 10.33 def. Coco Ho (HAW) 10.03
QF 4: Sally Fitzgibbons (AUS) 14.43 def. Lakey Peterson (USA) 11.76
ASP WOMEN'S WORLD TOP 3 (After Rip Curl Women's Pro Bells Beach):
1. Stephanie Gilmore (AUS) 18,000 pts
2. Sally Fitzgibbons (AUS) 16,500 pts
3. Tyler Wright (AUS) 13,000 pts
photo: Screen shot from RipCurl via youtube.com