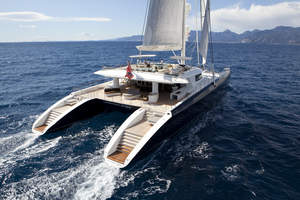 With items such as spending the day with Bill Clinton, an afternoon of shopping with style icon Simon Doonan, and a 7-day charter on HEMISPHERE — the world's largest luxury sailing catamaran, one of the world's most stylish fundraisers, the Christie's Green Auction: A Bid to Save the Earth, is on its way to raising another impressive sum. While the gala is set for April 11, the online auction is already underway on leading charity auction site charitybuzz.com. Bidders can choose from the star-studded list of exclusive events providing rare access to the world's elite personalities and the chance to live their lifestyle, such as chartering a completely unique superyacht, all while helping four leading environmental organizations, including Oceana.
www.charitybuzz.com/auctions/BidtoSaveTheEarth.
The online auction is a collaboration of the most prestigious brands and influential individuals offering their time and resources to raise awareness for the environment, including BURGESS, courtesy of the owners of the magnificent 145ft "supercat" HEMISPHERE, who have donated a yacht charter package valued at $245,000.
Ten to twelve sailing enthusiasts will have a once-in-a-lifetime opportunity to experience the thrill of HEMISPHERE, a design masterpiece that sets a new benchmark for luxury charters, with a crew of 10 including a gourmet chef and state-of-the-art accommodations. The elegant designer interior is the epitome of contemporary chic and her vast teak deck areas are perfect for al fresco entertaining and relaxing. Guests enjoy unparalleled comfort and the ultimate in amenities, including an extensive array of water toys including water skis, wakeboards & tows, windsurfing gear, fishing and snorkeling gear and full SCUBA diving facilities including two onboard PADI dive instructors and a large hydraulic swim platform. For a full description of HEMISPHERE, please visit: http://www.sy-hemisphere.com/
The winning bidder can choose one of two fantastic charter destinations, with bespoke itineraries created for each: an 8-day/7-night cruise in September 2012 in the magical cruising grounds of Croatia, where the astonishingly clear Adriatic Sea reflects the dramatic scenery, picturesque islands and fascinating ancient towns or 8-days/7-nights in the Caribbean sailing in February 2013. Both choices present an incredible opportunity to explore and dive in some of the most beautiful waters on the planet, and HEMISPHERE's innovative design is perfect for accessing shallow, secluded coves and bays off the beaten path. For complete terms, please visit the auction listing:
http://www.charitybuzz.com/auctions/bidtosavetheearth/catalog_items/2960149
In addition to the online auction, an invite-only event will take place at Christie's on April 11, 2012 in New York, where the world's top international collectors, philanthropists, celebrities and designers will convene for the third year in a row for a glittering night of entertainment, fashion and an over-the-top live "fantasy auction." The HEMISPHERE charter will close during the live auction and 100% of the funds raised will benefit Oceana, which is supported by BURGESS in its mission to protect and restore the world's oceans.
photo: Burgess Yachts