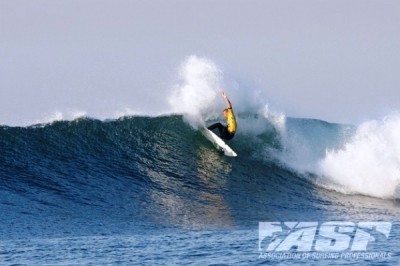 The Rip Curl Pro Bells Beach presented by Ford Ranger, the second stop on the 2012 ASP World Championship Tour, roared back to life today with clean three-to-five foot (1 – 1.5 metre) waves gracing the Rincon and Bowl sections from dawn to dusk.
Taj Burrow (AUS), 33, current ASP World No. 1, put in a juggernaut Round 2 performance today, comboing his opponent Davey Cathels (AUS), 21, with an impressive 17.53 out of a possible 20. The West Australian rebounded from yesterday's Round 1 loss in fine fashion, lacerating the Bells Beach walls with unmatched speed and flair to advance through to Round 3.
"That was a lot of fun," Burrow said. "I actually don't mind surfing Round 2 as it's another opportunity to get some waves and test out some equipment. I just didn't feel like I got in a rhythm yesterday and it feels great to iron out the kinks today and stoked to get through to Round 3."
Burrow will face compatriot Kai Otton (AUS), 32, in Round 3 of competition.
John John Florence (HAW), 19, who joined the elite ASP Top 34 at the midyear rotation last season, has been on fire since December 2011 where he claimed the ASP Prime event at Sunset Beach, followed by the ASP 5-Star event at Pipeline in February and the ASP Prime event in Margaret River last week.
"Winning out at Margaret's last week definitely gave me confidence coming into Bells," Florence said. "The waves seem pretty similar and the conditions are a lot of fun this morning. Happy to come away with a win this morning and looking forward to the next heat."
Florence will take on Matt Wilkinson (AUS), 23, when Rip Curl Pro Bells Beach competition recommences.
Gabriel Medina (BRA), 18, 2011 ASP Breakthrough Performer of the Year, showed excellent maturity this morning as the prodigious goofy-footer bested veteran powerbroker Taylor Knox (USA), 41, in clean conditions at Bells Beach.
"Taylor (Knox) is one of my favourite surfers and he is one of the better surfers out at Bells," Medina said. "I just focus on my own surfing and I was trying to put together some good rides on my backhand. I tried to mix it up and show as much variety as I could."
Coming on at the midyear rotation in 2011, Medina would go onto win two events (France, San Francisco) from his first four attempts and cement himself as a legitimate contender on the international stage. Although suffering an Equal 25th place finish at the season-opening event on the Gold Coast, the young Brazilian is looking to rebound at Bells Beach.
"I did not get the result I had hoped for on the Goldy, but that's okay," Medina said. "I'm still learning and getting used to the spots on tour. I have come to Bells a couple of times before and I really like it down here. I'm happy to get through Round 2 and hopefully I can get a good result here."
Medina will come up against C.J. Hobgood (USA), 32, in Round 3 of the Rip Curl Pro Bells Beach.
Brett Simpson (USA), 27, into his third season amongst the world's elite, put in a solid performance in tricky conditions this afternoon to eliminate veteran Australian Kieren Perrow (AUS), 35, in a heated Round 2 affair.
"That was a crucial heat for me," Simpson said. "This is my third year on tour and I've always felt like I've belonged here, but now that I have the confidence and experience, I expect results from myself. I feel like my surfing has been there for a while and now it's time for me to apply my experience at this level to my ability and really make a run at it. Super stoked to get through that heat and looking forward to the next one."
Simpson will draw Damien Hobgood (USA), 32, when competition resumes.
Yadin Nicol (AUS), 26, 2012 ASP Dream Tour rookie, posted the event's highest single-wave score of a 9.87 out of a possible 10 for blasting two turns out the back before cleaning sticking a full-rotation aerial on the inside section.
"It feels good to have a good heat," Nicol said. "I've been thinking about it for a while and I'm just stoked there are waves. It can be nerve-wracking too, having a big score and needing to find another back up. I kind of got a bit too excited after that first wave and pushed it too hard on my next ones. I had to calm down and recollect myself. Fortunately I did."
Nicol will battle Adriano de Douza (BRA), 25, in the opening heat of Round 3 when competition resumes.
Following the completion of the men's Rounds 1 and 2, the world's best female surfers took to the water for Round 2 of the Rip Curl Women's Pro Bells Beach presented by Ford Fiesta.
Stephanie Gilmore (AUS), 24, four-time ASP Women's World Champion and current ASP Women's World No. 1, looked comfortable in the glassy afternoon conditions in the Bells Bowl, besting wildcard Nikki Van Dijk (AUS), XX, handily in Round 2 of competition.
"I actually felt like I surfed the conditions well yesterday but there weren't a whole lot of waves," Gilmore said. "When it's one-on-one out there, like today, it's a bit more even-handed and I was able to surf the way I wanted. I don't feel like I put in an amazing heat, but I did enough to get the win and hopefully I'm pacing myself for a better showing in the later rounds."
Malia Manuel (HAW), 18, 2012 ASP Women's World Tour rookie, posted a convincing win over lethal veteran Jacqueline Silva (BRA), 32, this afternoon.
"I'm very happy to post a solid win here today," Manuel said. "I'm so thankful to Rip Curl for continuing to support women's surfing. I came her four years ago when I was 15 for the Grom Search and was so star struck. Now being back here in the Big Leagues is really a dream come true and I'm excited to be here representing Hawaii."
Manuel will take on Gilmore and Paige Hareb (NZL), 21, in Round 3 of the Rip Curl Women's Pro Bells Beach.
Sarah Mason (NZL), 16, capped off the day's affairs in incredible fashion, blasting the Bells Bowl on her backhand to claim the highest heat total of the round, a 17.34 out of a possible 20, and combo opponent Pauline Ado (FRA), 21.
Event organizers will reconvene tomorrow morning at 7am to assess conditions for a possible 7:30am start.
Highlights from the Rip Curl Pro Bells Beach will be available via http://live.ripcurl.com
Coastalwatch Plus, official forecasters for the Rip Curl Pro Bells Beach, are calling for a succession of strong WSW groundswells emanating from this activity are inbound across the region – peaking early today, followed by a second building in later Thursday and holding good size early Friday.