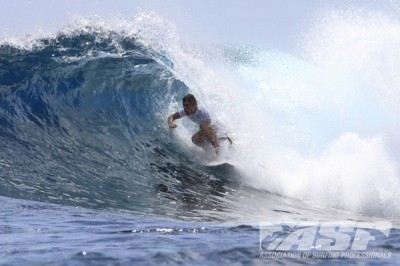 Today the ASP Australasia 5-Star rated Rangiroa Pro Junior culled the field of 60 surfers down to just four Semifinalists. The surfers needed to have their wits about them in the 3 foot (1.5 meter) surf at Rangiroa, French Polynesia today, with a variety of barrels, turn sections and air sections on offer.
Soli Bailey (AUS) trailed Thomas Woods (AUS) for 26 minutes of their 30 minute Quarterfinal, and was chasing a solid score to take the lead. Bailey then snuck a wave under Woods' priority and launched a huge slob-grab air-reverse to score a 9.00 (out of a possible 10), winning the heat and advancing into the Semifinals.
"I know Thomas (Woods) can throw down every trick in the book," Bailey said. "This is my last Pro Junior event for the year so I just went for it. I needed an 8.50 and there wasn't many barrels, and I haven't got a score higher than a 6.00 for turns all event, so I knew I needed to go for an air. When I took off I didn't know what I was going to do, I didn't even know if there was an air section. I bottom turned and hit the section and went for it and I landed on the flats and rode out. This is my best result at a Pro Junior, I've made the Semifinals at a 3-Star, but this is better because it's a 5-Star. I just hope I can win my next heat and make the Final."
Keoni Yan (PYF) is the last Tahitian standing after advancing to the Semifinals with a win over fellow Tahitian Jocelyn Poulou (PYF). Yan won the very close heat thanks to his powerful in the pocket snaps and carves.
"Last year I got to the Quarterfinals and now it feels very good to be in the Semifinals," Yan said. "I'm against Soli Bailey in the next heat and he's a very good surfer, so I will do my best. In that heat I just waited for the best waves and tried to do my best. I just try to push hard and get more points."
Cooper Chapman (AUS) and Wade Carmichael (AUS), current 1 and 2 on the ASP Australasian Pro Junior Series ratings had an epic back and forth battle in their Quarterfinal match-up. In the most exciting heat of the event thus far, the lead changed on just about every wave, with both surfers upping the ante with each exchange. In the end it was Carmichael who won with heat with a mixture of power gouges and throw-tail turns. Carmichael needs to win his Semifinal to overtake Chapman's lead on the ratings.
"I felt really good out there," Carmichael said. "It was a nerve racking heat because Cooper (Chapman) and I are so close on the ratings. I knew I had to have a good heat. The waves got really good, I had fun and I'm really stoked! This is my last year on the ASP Australasian Pro Junior Series and I'm trying to make it a good one and qualify for the ASP World Junior Tour."
Connor O'Leary (AUS) is the last goofy-footer in the event, he advanced into the Semifinals after defeating fellow Australian Jake Sylvester (AUS). O'Leary attacked the waves with vicious snaps in the critical section of the wave, free-falling into the wave trough. He will now face Carmichael when competition resumes.
"The priority system out there is epic," O'Leary said. "It's so sick because there's heaps of waves and you can just take turns and not hassle. It was so much fun out there because it gets better in the afternoons. It's tough to come up against a mate, but you just have to forget they are your friend and then be friends again after the heat is over. It's going to be tough against Wade (Carmichael), I beat him in our Round of 16 heat, now I just have to see if I can do it again tomorrow."
The Semifinals and Final will be run tomorrow from 10am local time. More info http://www.prosurfinglive.com/live/asp/tahiti/