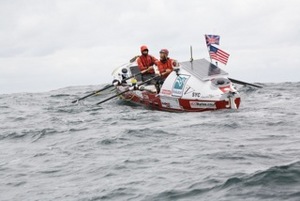 Kokatat, the leading US manufacturer of technical apparel and accessories for water sports, is pleased to announce its support of OAR Northwest, an ocean adventure rowing and adventure education organization, based in Seattle, WA.  OAR Northwest will be using Kokatat gear during its upcoming expeditions: a circumnavigation of Vancouver Island and Atlantic Ocean crossing.
"We are proud to keep OAR Northwest paddlers dry during their expeditions and support their mission on land of educating their communities on the health of our marine ecosystems while promoting water sports in general," said Lisa Kincaid, Kokatat Promotional Marketing Manager.
While attempting record setting ocean rowing journeys, members of the OAR Northwest team uses high-tech instruments to collect research data from the ocean environment and marine life and individual biometric data from the rowers.  For example, they will use a YSI CastAway to analyze the ocean water's temperature, salinity and sound speed.  Through free web-based tracking and an adventure learning curriculum found at OARnorthwest.com, students and adults alike can virtually join the rowers every oar stroke of the way on these academic year-based expeditions.
"Kokatat gear is essential for our safety and comfort in the unpredictable seas," said rower and OAR Northwest President, Jordan Hanssen.  "Kokatat has been a great partner in the past, and we are excited to have them back in the ocean rowboat for these upcoming expeditions."
The OAR Northwest team consists of an Olympic Gold Medalist and Guinness World Record holding rowers.  For the expeditions the team will use the world's most technologically advanced ocean rowboat, the 29-foot James Robert Hanssen and an array of Kokatat gear including GORE-TEX Front Entry Dry Suits with Relief Zipper,  GORE-TEX Anorak jackets, multiple layering options, and various accessories.
On April 7, 2012, OAR Northwest will depart on its Canadian Wildlife Federation Salish Sea Expedition.  This 750-mile record-making attempt to circumnavigate Vancouver Island will depart from Lake Union Park, Seattle, WA and proceed in a counter-clockwise direction around the island.
In December 2012 OAR Northwest will make a Guinness World Record attempt across the Atlantic Ocean on its CWF Africa to the Americas 2012 expedition.  The journey will span 60-80 days as the team rows nearly 4,000 nautical miles from Liberia to Venezuela.  In addition to connecting children from communities separated by a vast ocean and cultures through its educational programs, the expedition team is rowing in support of Right To Play – an international nongovernmental organization whose philosophy is to impart skills of responsibility and self-reliance that leave a lasting impact for children.