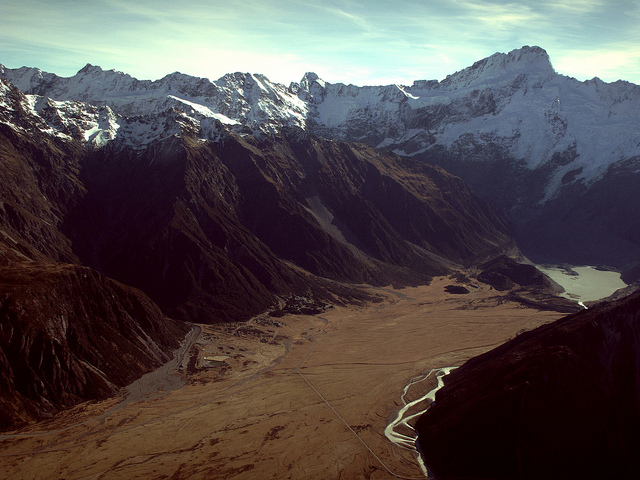 Fully embodying the newly coined concept of "glamping" (glamor + camping) is the Minaret Station in the Southern Alps of New Zealand. This may be a winning argument for those who want to convince their afraid-of-the-outdoors friends or spouse to spend a few nights in the great outdoors. However, unlike real rugged camping, it'll cost you a pretty penny.
The campsite is located at the head of a stunning glacial valley deep in the Southern Alps. The only way to get to the campsite is by helicopter. The campsites are still tented, but the tents are more like luxurious hotel suites with wall-to-wall sheepskin carpets, king-size beds, a patio with a jacuzzi, a full bathroom and warm, warm showers.
The activities listed on the Minaret Station's website include hiking the abundant trails in the area, experiencing high country farming, wildlife watching, exploring the Fiordland West Coast by helicopter, fly fishing in incredible rivers, and of course, relaxing with a book and wine on your own private deck.
While most campsites are cheap, these glamping sights are far removed in price and experience from your regular outdoors trip. The price tag does include helicopter flight to and from the locale, all-inclusive food and most drinks along with guide service, but a tented 2 person suite will still run you at least NZ $3,500 (USD $2,878) per night with a minimum two night stay. After two nights, the cost drops to NZ $1,950 (USD $1,605). Children cost extra.
Photo: profernity (flickr)