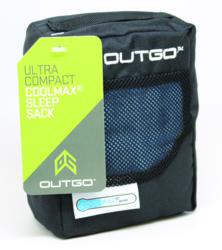 Outgo, the leader in personal care products for active lifestyles, announces the addition of the COOLMAX Sleep Sack and sleeping bag liner to its product line. The ultra-compact COOLMAX Sleep Sack is a versatile sleep system, which is ideal for use as a sleeping bag liner or in place of a sleeping bag while traveling or in warmer climates.
"The Outgo COOLMAX Sleep Sack not only adds warmth when you're cold, but regulates body temperature to cool you down when you overheat," said David Wiggs, vice-president of marketing at McNett.
Made of COOLMAX fabric, the sleep sack features an effective fiber-based moisture management system, which can move perspiration away from the body and through the fabric, where it can evaporate quickly, allowing for a more comfortable night's sleep. In addition, the sleep sack is compact and does not take up much room in backpacks or luggage.
"The COOLMAX Sleep Sack is also ideal when traveling. Nobody likes sleeping on a questionable mattress, nor do they want to expose their skin to bed bugs or other lurking critters," said Wiggs. "With our new sleep sack system, you can enjoy a good night's sleep without worrying about what's hiding beneath you."
The new Outgo Ultra-Compact COOLMAX Sleep Sack features a "mummy" design and mesh storage sack. Available in green or blue, the sleep sack is now available for purchase. For a list of retailers, visit our Dealer Locator.