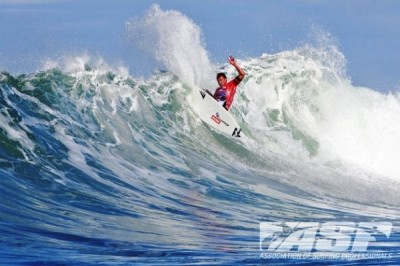 The Rip Curl Pro Bells Beach presented by Ford Ranger will commence its waiting period tomorrow and the Southern Ocean is poised to deliver excellent conditions for the world's best surfers to do battle in.
Event No. 2 of 10 on the 2012 ASP World Championship Tour, the Rip Curl Pro Bells Beach will recommence the race for the ASP World Title and the elite ASP Top 34 will do surf for the honor of 'ringing the bell' by event's end.
Taj Burrow (AUS), 33, current ASP World No. 1 and former Rip Curl Pro Bells Beach winner (2007), is fresh off a victory at the season-opening event on the Gold Coast and will look to consolidate his efforts this week at Bells Beach.
"Coming off a win definitely helps in terms of confidence," Burrow said. "It's impossible to commit to long-term projections so early in the year, but I definitely want to back myself up with a good result here."
Coastalwatch Plus, official forecaster for the Rip Curl Pro Bells Beach, are calling for the start of the Rip Curl Pro at Bells Beach to be nothing short of excellent. The forecast broadly hinges on an active storm track affecting the far southern Indian Ocean through to Western Australian longitudes over the next week.
"I've never been much of a forecast guy," Burrow said. "I usually just try to approach each day ready to surf anything. From what I've been hearing though, it sounds like we're going to have a good week of waves. I've been working on my boards and I think I've got some good ones ready for Bells. Equipment is crucial as Bells is such a unique wave."
While Burrow currently sits atop the elite ASP World Championship Tour ratings, the Western Australian admits that the depth of talent within the ASP Top 34 is staggering.
"There are absolutely no easy draws on tour anymore," Burrow said. "It's about as elite an ASP Top 34 as you can get and everyone is capable of posting a win. It makes it really exciting to watch and hopefully I can put in some good showings this week."
Burrow will take on highly-touted rookie Kolohe Andino (USA), 18, and trials winner Nic Muscroft (AUS), 29, in Round 1 of the Rip Curl Pro Bells Beach.
When competition kicks off, up first will be Jordy Smith (ZAF), 24, Kieren Perrow (AUS), 35, and Fredrick Patacchia (HAW), 30, in Heat 1 of Round 1.
Running in conjunction with the men's event is the second stop on the 2012 ASP Women's World Championship Tour, the Rip Curl Pro Bells Beach presented by Ford Fiesta.
Stephanie Gilmore (AUS), 24, four-time ASP Women's World Champion and current ASP Women's World No. 1, regained her frontrunner status last month with a hometown win on the Gold Coast. The young natural-footer claimed an unprecedented four ASP World Titles from her first four attempts on tour, but last year fell to No. 3 as she was dethroned by Hawaiian sensation Carissa Moore (HAW), 19.
"Winning any event on tour is a great feeling, but definitely winning at home and at the opening event of the year is special," Gilmore said. "Compared with 2011, I'm in a much better place this season. I'm not dealing with any injuries and I'm feeling a lot more relaxed. It's definitely a different kind of mindset that you experience when you're the frontrunner as opposed to chasing the frontrunner, and I think that's played in my favor to start the year off."
A three-time past winner of the Rip Curl Women's Pro Bells Beach (2007, 2008, 2010), Gilmore's affinity with the wave will serve her well this week as she takes on her fellow ASP Top 17 competitors.
"I've been surfing and competing at Bells for as long as I can remember and it's a special place in surfing," Gilmore said. "I don't mean to sound redundant as everyone says this, but it truly is an incredible natural amphitheater and when the waves are on, it's one of the most rippable spots on the planet. I think my style of surfing definitely suits the walls at Bells and I just hope we get swell for the event."
While a percentage of pundits within the surf media questioned Gilmore's motivation and commitment to competition following her dethroning last season, the progressive natural-footer has brushed such criticism aside, reaffirming her desire to win and her perspective on maturation.
"It'd be an easy thing to say that after winning the first event of the year, my focus has returned, but that's just not accurate," Gilmore said. "My focus never left the tour – I've always wanted to compete, and I compete to win. The ASP Title is still the goal, it's still a driving force in my life – it's just not the case that I have a singular goal anymore. That said, all my efforts right now are geared towards preparing for Bells and I'm very much looking forward to it."
Gilmore will battle rookie Lakey Peterson (USA), 17, and wildcard Nikki Van Dijk (AUS), 17, in the opening round of competition.
Event organizers will convene tomorrow morning at 7am to assess conditions for a possible 7:30am start.
The Rip Curl Pro Bells Beach will run from April 3 – 14, 2012 and will be webcast LIVE via http://live.ripcurl.com