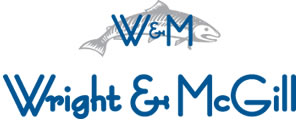 Premier Alaska heli-adventure guide and multi-sport company, Tordrillo Mountain Lodge, announces its product partnership with Wright & McGill fishing equipment. As a leader and longtime provider of sport fishing equipment, W & M will offer Tordrillo Mountain Lodge the necessary gear guests need to catch Alaska's legendary fish.
"As two leaders in our industry, we and the folks at Wright and McGill felt that teaming up is a natural and good choice," says Mike Overcast, co-owner of Tordrillo Mountain Lodge. "Wright & McGill is providing stellar equipment that complements our varied fishing services nicely. We'll be spin fishing for giant king salmon in June and switch to fly fishing for trout the remainder of the season– using all W & M gear."
Tordrillo Mountain Lodge is taking reservations for its summertime fishing adventures that vary by season, fish runs and client preference. Starting in June, clients can participate in the distinct fishing and skiing program called "Cast and Carve," combining heli-supported corn snow skiing and king salmon fishing. After Cast and Carve wraps, guests can build custom fishing trips with or without the aid of air service to reach remote regions within the Tordrillos, embark on overnight rafting/fishing trips or fish out the front door of the lodge.