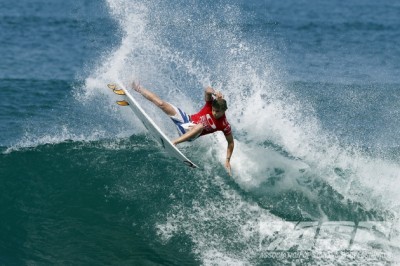 The opening day of the ASP 4-Star Vans Pier Classic presented by Jack's Surfboards and hydrated by Vitaminwater saw a melting pot of talent including veteran competitors, local standouts and international up-and-comers as they put on strong performances in clean two-to-four foot surf at Huntington Beach Pier while completing Rounds 1 and 2.
Asher Nolan (Jacksonville, FL), 33, a former standout on the international stage, dominated the lineup in his Round of 128 heat, unloading the day's highest single-wave score of 8.50, out of 10, while accumulating the highest heat-total of a 15.67, out of 20.
"I've had a few results here over the last few years on and off," Nolan said. "I just got out here on Monday and surfed and felt terrible. I put it together for my heat though. I don't know, I switched my wetsuit, my boards and my fins right before my heat because nothing was going right. I think that helped. I'm just out here competing for fun, not stressing about making heats and it's great to see some old friends I haven't seen in awhile."
Jason Harris (Huntington Beach, CA), 23, was another leader on the opening day of Vans Pier Classic competition. The local standout's high-score came in the dying seconds of his heat, when he locked in to a steep lefthander and delivered a series of committed backhand bashes to vault from third to first to consolidate the win.
"I lost so many times last year in the last 30 seconds and I knew the rights were fat and if I stuck to the lefts I could force a couple of backside turns," Harris said. "I'm just stoked. It's never over until it's over. It was good to have that Round 1 heat. I have a little bit of a seed, but to get my feet in the wax this morning and get a few waves was really good for my confidence. "
Harris, a Huntington Beach native, admitted that despite years of time in the local lineup, the wave can still be deceptive to figure out.
"This wave is so tricky that sometimes it feels like it doesn't matter how much time you put in out here, you've got to find that little peak and hopefully get lucky," Harris said.
Hiroto Arai (JPN), 17, an ASP World Junior Tour competitor, has been gaining priceless international experience over the last year while competing in additional ASP Pro Junior regional events. The young Japanese standout turned heads in the opening rounds of the men's Vans Pier Classic competition with powerful turns to take out two strong heat wins.
"I'm so happy, the waves are really slow out there but I could get a couple and get a few scores," Arai said. "I'm doing the Pro Juniors in Australia and America, but I only get points from the events in Japan, so I'm doing the Pro Junior here too for practice."
Phillip Goold (Virginia Beach, VA), 20, started his Vans Pier Classic campaign in strong fashion, taking out two convincing heat wins while posting one of the day's highest heat totals, 14.10 out of 20, to advance to Round 3.
I'm stoked, my first heat was the first heat of the whole contest so that was a little nerve wracking, but this heat was much more consistent with waves," Goold said. "I just sat to the south of everybody and sat there by myself and picked off a couple of rights that I saw. They were running a bit more, not just offering one hit on the outside."
Goold, who entered the Vans Pier Classic via the alternate list, was relieved to capitalize on the crucial points gained by advancing to Round 3 of the ASP 4-Star event.
"It feels good to get through those first two rounds," Goold said. "I was eighth alternate last week and kept moving up and I was pretty psyched to get into the event and not have to wait on the beach. I'm using this event to ramp up for my year and hopefully I can get in to the 6-Star at my hometown in Virginia Beach later this year."
Running in conjunction with the Vans Pier Classic is the ASP 4-Star Vans Pro Junior, which represents the third stop on the 2012 ASP North America Pro Junior Series. The Vans Pro Junior plays a vital role in regional surfers' campaigns towards qualification for the ASP World Junior Tour.