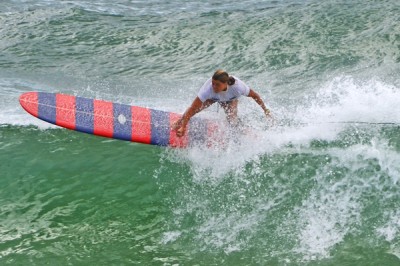 Current World Champion Taylor Jensen (California, USA) has held off a late charge by former World Champion Harley Ingleby (Emerald Waters, NSW) to win the Australian Longboard Surfing Open presented by Surftech.
The prestigious event at Kingscliff in northern NSW featured both men's and women's Association of Surfing Professionals (ASP) Longboard Qualifying Series (LQS) divisions with $20,000 total prize money.
In shifting 1-2ft (.5 metre) swell, Jensen took the men's final on the back of two early high scores while in the women's final local favourite Chelsea Williams (Tweed Heads, NSW) had the highest single wave score of the heat to edge out Jennifer Smith (California, USA) after both surfers finished on 13.87.
In tricky conditions on the incoming tide, Jensen (16.26) locked in an early 7.43 and backed it up with the final's highest single wave score of 8.83 with 15 minutes remaining to finish ahead of Ingleby (15.04), Nic Jones (Buderim, QLD, 10.10) and Dane Wilson (Coolum Beach, QLD, 9.27). Ingleby scored an 8.27 with 10 minutes remaining, but it wasn't enough with Jensen holding on for the win.
"You had to go for anything that looked like it might wall up and that first one walled up on the inside for me and halfway through the heat I could see that second one would wall up so I was happy to get those two in," Jensen said.
"But I wanted to put a better heat score together to feel a bit safer as Harley has come back against me before late in the heat and locked in a winning score so I would have liked a better back-up.
"I was confident nothing was going to come through and offer the mid-8 score he needed on the inside so I sat out back to make sure if the bomb came through I had it protected."
In the women's LQS division, the lead changed seven times with each surfer taking top spot at some stage but it was Williams who snuck home on the back of a 9.17 midway through the heat to finish ahead of Smith, Crystal Dzigas (HAW, 12.50) and Candice Appleby (HAW, 9.27).
In a tense finish, Smith needed a 7.21 to take the title and came desperately close scoring 7.20 to level the scores with Williams on 13.87 forcing a count-back. Williams took the title courtesy of her 9.17 to Smith's best single wave score of 7.20.
"I was pretty worried, it took me a while to get my first one as I was always in the wrong spot and all the girls would get a wave and then I'd just be waiting and nothing would come," Williams said.
"I definitely needed that first big score. It's so hard out there. You can't really see from the beach but it's really washy and the bumps are everywhere. I didn't realise it was as close as it was in the end."
Finals in all divisions were held today including the Illusions Noosa SUP Pro with Beau Nixon (Tweed Heads, NSW) dominating with an 18.70 to easily account for Jackson Close (Tweed Heads, NSW,13.53), Geoff Breen (Sunshine Coast, QLD, 13.24) and Dane Wilson (Coolum, QLD, 9.84). Nixon exploded out of the blocks to quickly put the final beyond doubt scoring an 8.83 and a 9.87.