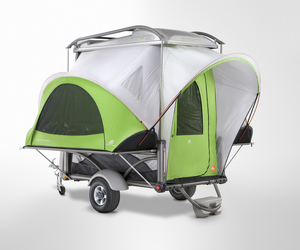 SylvanSport, producer of American-made mobile adventure gear, is pleased to announce Ultimate Campers, Australia's leading off-road camper trailer manufacturer, as its exclusive Australian and New Zealand distributor for the award-winning SylvanSport GO.
"The GO was designed to have world-wide appeal, and we're excited to serve such adventure-oriented markets as Australia and New Zealand.  With this addition to our existing distribution in Europe and Asia, the GO has truly gone global." comments Thomas Dempsey, SylvanSport's president and founder. "We could not hope to find a better fit for the GO than with Ultimate Campers.  We look forward to growing our presence in Australia and New Zealand with their sales and market leadership."
Founded in 1994 by Michael and Wendy Hackett, the origins of Ultimate Campers lie in the boat-building industry and a love for the great outdoors of Australia. The proven off-road performance of Ultimate Campers' adventure trailers such as the Xtrk, Elite Silver and Elite Gold have achieved legendary status amongst camping and sports enthusiasts around the world.
The Ultimate GO, as it will be branded in Australia, is produced by SylvanSport in the US, and will be distributed by Ultimate Campers in Australia and New Zealand.  "The multi-configurable frame of the GO trailer makes it the most versatile transformable camper in the world today," says Ultimate Campers founder, Michael Hackett.  "Whether you are into mountain bikes, dirt bikes, kayaks or ATVs, the GO allows you to carry almost any combination of equipment you need along with shelter, all in one. We are excited to partner with SylvanSport and offer the Ultimate GO."