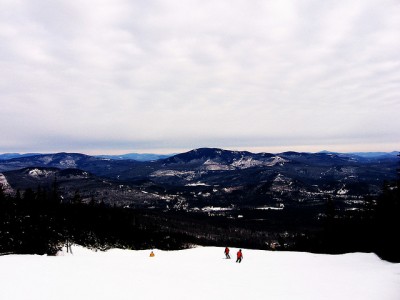 Snowmaking at three Boyne Resorts ski and snowboard resorts in New England will continue throughout this week, marking the latest date for snowmaking in the history of these resorts. Loon Mountain, Sunday River and Sugarloaf (all operated by Boyne Resorts) have the facilities in place and are trying to ensure skiing and snowboarding late into the season.
Original press release issued by Sugarloaf Mountain Resort on March 27th, 2012
As most Eastern ski resorts are closing down in the wake of last week's unprecedented heat, the three New England ski resorts managed by Michigan-based Boyne Resorts are making more snow to carry the season into April.
Crews at Sunday River Resort (Newry, ME), Sugarloaf (Carrabassett Valley, ME), and Loon Mountain (Lincoln, NH) will blast trails in white today as temperatures dip into the teens and 20s. Snowmaking will continue this week as weather allows. This marks the latest snowmaking in history for all three resorts and snowmaking will continue throughout the week.
"We are committed to ensuring our customers are able to ski and snowboard well into late season and we have the infrastructure to handle it," John McGregor, Senior Vice-President of Ski Operations at Boyne Resorts, says. "Our crews have proven their ability to work in marginal temperatures all season long. Right now, these three resorts are offering more open terrain than all the other resorts in New England combined."
This snowmaking coincides with Boyne Resorts launching sales of the 2012–2013 New England Pass, an inclusive season pass that offers access to Sunday River, Sugarloaf, and Loon Mountain—a combined trail count of 345 trails and over 2,000 acres of skiable terrain. Prices start at $359.
The resorts are concentrating snowmaking efforts on easier and intermediate trails to ensure groups scheduled to visit could choose among a large selection of terrain. All three New England Boyne resorts have been accepting groups scheduled for other resorts that are now closing early.
For more information about Sunday River, Sugarloaf, or Loon Mountain, please visit www.sundayriver.com, www.sugarloaf.com, or www.loonmtn.com. Information about Boyne Resorts is located at www.boyneresorts.com.
Photo: Kelsey Ohman (kmohman, flickr)