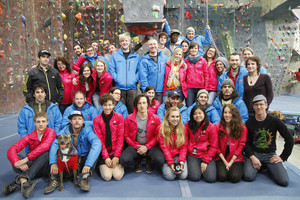 adidas Outdoor, the athletic brand in the outdoors with highly focused performance and lifestyle footwear and apparel for men and women, has partnered with Brooklyn Boulders in Brooklyn, New York, as its official outfitter. Established in 2009, Brooklyn Boulders is New York City's largest and only dedicated rock climbing gym.
"The work Brooklyn Boulders has done to bring climbing to New York City and create greater accessibility for the sport is inspiring to us, and we wanted to be a part of it," said Greg Thomsen, managing director of adidas Outdoor, North America. "The community they've built here in such short a time is strong and dedicated, their enthusiasm and passion for climbing is through the roof, and we couldn't be happier to be a part of their team."
Brooklyn Boulders (www.brooklynboulders.com) has 22,000 square feet of climbing surface, and a variety of training classes, as well as yoga, Pilates and slacklining. The gym, catering to both experienced and novice climbers, provides classes and events especially for kids and families, as well as its own youth climbing team, the BKBeasts.
"Having the support of a brand like adidas Outdoor means a great deal to our team and our business," said Lance Pinn, co-founder of Brooklyn Boulders. "The new adidas product is incredible, and not only gives our team a more cohesive and professional look but also helps spread the good word of our gym each time they step outside. We're looking forward to expanding our partnership with this brand that really understands and values climbers and the sport of climbing."