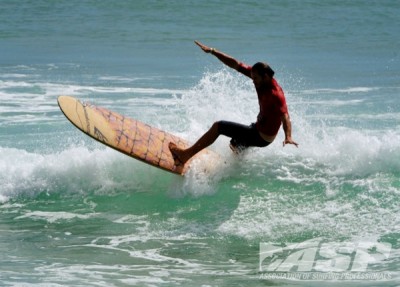 2011 ASP World Longboard Champion Taylor Jensen (California, USA) is facing an Australian assault in tomorrow's final of the Australian Longboard Surfing Open presented by Surftech at Kingscliff, in northern New South Wales.
The prestigious event features both men's and women's Association of Surfing Professionals (ASP) Longboard Qualifying Series (LQS) divisions with $20,000 total prize money.
In a tricky 1-2ft (.5 metre) swell, Jensen reached the final after finishing second in his semi-final and will meet three Australians in the decider.
In the final, Jensen takes on Nic Jones (Buderim, QLD), Harley Ingleby (Emerald Beach, NSW) and Dane Wilson (Coolum, QLD).
Ingleby (16.66) was the form surfer in the semi-finals taking early control of his heat with a 7.83 and 8.83 to beat Wilson (13.57), whose classic, fluent style has taken the Sunshine Coast surfer all the way to the final.
In the first semi-final, Jones, another Sunshine Coast surfer, locked in an early 8.17 but was forced to trade the lead several times with Jensen before taking the heat 15.17 to 14.84.
In a busy day of finals for Wilson, he will also appear in the SUP Pro final and Noserider final.
In the women's LQS division, Chelsea Williams (Tweed Heads, NSW) will carry the local hopes in the final when she meets 2010 World Champion Jennifer Smith (California, USA) and Hawaiians Crystal Dzigas and Candice Appleby.
Williams and Smith have been going head-to-head throughout the event, with Smith again prevailing in their semi-final 15.33 to 10.14. Williams managed to find the only barrel of the day when she decided to take a rare left on the inside.
In the second semi-final, the super-stylish Dzigas scored an early 7.67 as the swell dropped to take the heat over Appleby 12.20 to 10.83.
Competition also continued in the Amateur Women, 9ft Amateur, Over 40s, Over 50s, Under 18s, Noserider, Sup Pro and Sup Amateur divisions.