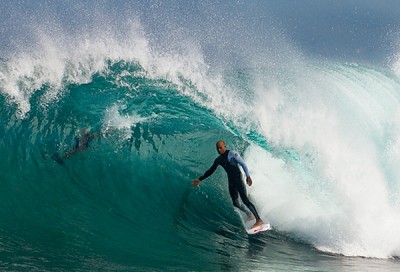 With a healthy amount of swell on tap for the opening days of the ASP PRIME Telstra Drug Aware Pro, many of the world's best surfers have been hovering around Western Australia in search of waves while waiting to surf their heats. Since the main event is held at Margaret River, the infamous slab, The Box, is just across the channel from the contest site and the iconic Australian barrel has played host to a few all-star sessions already. ESPN chimed in on what's been happening. This… is their story…
At a lot of contests around the planet you often see the competitors sneak off for a warm up surf before their heat. Usually it's a quick wave or two to get the blood running, feel out a board, and get the wax between their toes before they pull on their jerseys.
During the running of Wednesday's mid-rounds of the Telstra Drug Aware Pro at Margaret River in Western Australia was a pretty special pre heat 'warm up'.
"There were some fun waves and I stayed out for three hours, came in about an hour before my heat, had a little rest and then won my heat," joked Kieren Perrow about his warm up session at The Box, a dredging right hand slab just a hundred yards or so away from the main contest break at Margaret River.