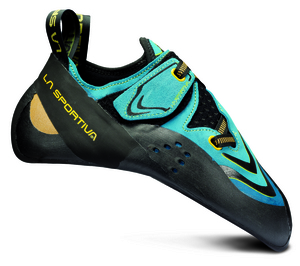 La Sportiva North America, makers of the world's finest mountain products, introduces the Futura, a high-performance rock climbing shoe that features La Sportiva's proprietary "no edges" technology. Climbing magazine awarded the shoe its highest honor, Editors' Choice, in the 2012 Gear Guide that hit newsstands this week.
"La Sportiva continues to innovate and push the boundaries of what's possible with climbing shoe technology," states Jonathan Lantz, president of La Sportiva North America. "Our Futura shoe features no edges technology that we first debuted on the Speedster. It provides incredible edging power right out of the box."
In addition to the no edges technology, the Futura utilizes La Sportiva's popular Fast Lacing System™ to provide quick and easy adjustment. Carried over from the well-known Solution shoe, the Fast Lacing System is paired with Vibram XS Grip 2 rubber to provide a snug, precise fit in a downturned format that provides ample power for hard boulder problems. The shoe is lightweight, sleek, and sensitive for high performance bouldering, sport climbing, and gym training.
The shoe is also very durable and will hold up well to the abuse of many climbing sessions. Lantz continues, "by not using traditional edges, the Futura will last longer than other climbing shoes on the market. There is less friction to wear down the rubber thereby reducing overall wear and tear on the shoe."
According to the editors at Climbing, who tested the shoe extensively in advance of its annual Gear Guide, "testers lauded the comfort and easy on-off, which make the Futura perfect for bouldering and indoor training. The Futura received high marks for sensitivity, thanks to a 3mm Vibram XS Grip2 outsole. They also hook really well, with a heel that vacuum-fits a variety of foot shapes and sufficient toe-top rubber and forefoot flex."