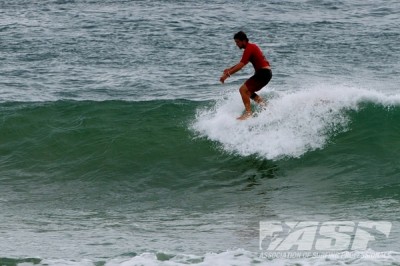 Former ASP World Champion Harley Ingleby (AUS) has made a blistering start to the Australian Longboard Surfing Open presented by Surftech at Kingscliff, in northern New South Wales.
The prestigious event features both men's and women's Association of Surfing Professionals (ASP) Longboard Qualifying Series (LQS) divisions with $20,000 total prize money.
In a shifting 2-3 ft (1 metre) swell, Ingleby, from Emerald Beach, NSW, locked in an 8.50 and 9.43 inside the opening three minutes of his heat for a commanding score of 17.93 and was never headed against Matt Aldridge (Coolangatta, AUS) 12.67, Clinton Guest (USA) 10.77 and Bowie Pollard (Sunshine Coast, AUS) 6.77.
Ingleby's 17.93 was the day's highest heat score.
"I basically got those two off the bat, they hit the bank and walled up and I really didn't really have to work that hard for the scores," he said.
"I sat around for most of the heat after that as there wasn't much coming through.
"It was typical Kingscliff with such a wide bank and it's pretty easy to get lost out there."
Other big names to ease into the quarter-finals were current ASP World Champion and defending event champion Taylor Jensen (California, USA), three-time Malfunction champion Dane Pioli (Tweed Heads, AUS), and former World Champion Josh Constable (Peregian Beach, AUS).
A surprise elimination on Day 1 was current Australian longboard champion Jackson Close (Currumbin, AUS), who finished third in the first heat of the day behind Jensen and Ben Dickens (Lennox Head, NSW).
In the women's LQS division, Chelsea Williams (Tweed Heads, AUS) was the standout performer in the Round of 24 scoring 11.10 to set up a quarter-final against 2010 World Champion Jen Smith (USA) and Tessa Davidson (AUS). Other winners included Wini Paul (NZL), Melissa Combo (Ballina, AUS) and Claire Norman (Randwick, AUS).
For all event updates please visit – http://www.australianlongboardopen.com and for live coverage and latest results visit – http://www.prosurfinglive.com/live/2012/australian-longboard-surfing-open/
Competition also started in the Pacific Finance 8ft division.