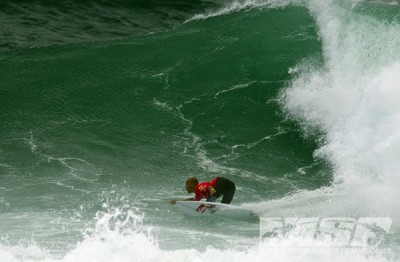 Margaret River was pumping out 6 – 8 foot (2 – 2.5 meter) waves for day 2 of the 2012 Telstra Drug Aware Pro today. The world's best surfers were put to the test with long lulls, strong winds and big waves to battle in the opening Round of the Men's ASP Prime rated Telstra Drug Aware Pro.
Kelly Slater (USA), reigning 11 x ASP World Champion, had the crowd on the cliffs at Margaret River in awe as he paddled out for his first surf at this break in 12 months. Slater stayed busy catching a lot of waves, both lefts and rights and posted the day's highest heat total – 16.60 (out of a possible 20).
"It feels great to be back in Margaret River," Slater said. "I got here really late last night so I haven't had much sleep. Today is probably the worst of the wind conditions for the week, I think we're going to get some great waves this week. I didn't know what was on offer when I was out there because all day I saw guys missing waves, so I tried to stay busy and get used to the line-up. I thought I'd get a couple of scores on the right, then catch some lefts."
Owen Wright (AUS), current number 5 on the ASP World Championship Tour ratings, posted two excellent scores in the first heat of the day to take the win and advance to the next round where he'll face Jay Quinn (NZL), Messias Felix (BRA) and Gabe Kling (USA).
"It's a touch bigger out there so I took out my 6'5 board," Wright said. "I was going for an air on the end section and I saw a rock right there, but I thought I could do it. Then when I landed I was almost on dry reef, I'm lucky I didn't knock the fins out of my board. I'm stoked with the forecast and even today it was really fun out there. It's great to be back in Margaret River and win my heat, I lost in the first round last year."
Damien Hobgood (USA), defending Telstra Drug Aware Pro event champion, posted a solid win in his Round of 96 heat today. Hobgood picked off both lefts and rights and used his powerful in the pocket surfing to advance to the next Round alongside Billy Stairmand (NZL), who finished 2nd.
"There are some squalls that came in and out so you had to pick waves when the wind was better," Hobgood said. "It was fun. There were a lot of waves and it was breaking all over the place so everyone was spread out. I enjoyed it. You've got to be a little bit lucky out there and try to find the waves that allow you to do one big turn. I'm super stoked to be back in Margaret River, I'm loving the waves and this whole place."
Mark Occhilupo (AUS), 1999 ASP World Champion, was back to the kind of form that saw him earn the nickname 'the Raging Bull'. Occhilupo was the winner of the first ASP event at Margaret River back in 1985, he also won the event 20 years later in 2005! Although retired from full-time competition, Occhilupo occasionally enters events for some fun and to measure himself against the new generation of young surfers.
"I've always enjoyed surfing Margaret River," Occhilupo said. "In the freesurf this morning I was just thinking, 'wow'! My boards feel good, and I just felt like I was back in the old days. I was wanting to go right, but ended up going left more. Margarets is kind of like Bells for me, I can really open up on the wave faces and it suits my surfing. I'm stoked to be back."
Taj Burrow (AUS), current No. 1 on the ASP World Championship Tour and south west WA local survived a close Round of 96 heat that saw him advance to the next Round in 2nd position. Burrow was sitting in 3rd and 4th position for the majority of the heat until he caught a nice right-hander in the dying minutes netting the score required to advance.
"I don't really surf out at Margaret River all that often," Burrow said. "I was totally lost out there, we had a slow start with no sets. I like to catch a lot of waves in my heats, so I moved in to get the ball rolling and then bombs started coming through and I missed them. I had a shocker. It's all uphill from here."