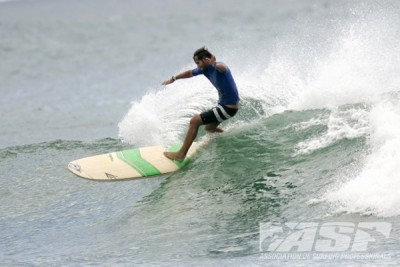 Meet Australia's top longboarders. They'll be hanging 10 in this week's Australian Longboard Surfing Open presented by Surftech.
To be held at Kingscliff from the 21st-25th March, the prestigious longboard event will feature both men's and women's Association of Surfing Professionals (ASP) Longboard Qualifying Series (LQS) divisions with $20,000 total prize money as well as a noserider specialty event, retro boards, amateur divisions, SUP surfing and racing, and coaching clinics.
The Green Aussie Cleaner ASP LQS Men's division will be spearheaded by current ASP Men's World Longboard champion and 2011 event champion Taylor Jensen (USA). He'll be joined by an all-star cast of longboarders including 2009 ASP Men's World Longboard champion Harley Ingleby (NSW), 2006 ASP Men's World Longboard champion and six times Australian champion Josh Constable (Qld), as well as Jackson Close (QLD), Mitch Surman (QLD), Thomas Kibblewhite (NZL), Jared Neal (AUS) and Dane Pioli (NSW).
In the women's LQS division, expect to see the winner of the inaugural pro event in China, Chelsea Williams (NSW) together with 2010 ASP Women's World Longboard Champion Jen Smith (USA) and a host of other internationals from Hawaii, California, Canada and France.
And, the forecast looks promising for competitors with a new round of mid period east groundswell expected to arrive across the Tweed Coast on Wednesday, originating from the same high pressure ridge spanning the north-eastern Tasman.
Event Director Sean McKeown is expecting the event to go to a new level of fun and entertainment in 2012.
"With so many world rated surfers we are looking forward to five days of great surfing across not only the ASP Pro divisions but the speciality divisions like the noserider, retro boards, stand up paddle and old mals as well."
"On the land we have heaps of activities to keep everyone entertained as well."
The Australian Longboard Surfing Open will also host lifestyle stalls, surf vehicle show & shine, music, movies, bikini parade and for the first time ever a seafood cooking demonstration by Eoin Shoemark head chef from the award winning Fins Restaurant at Salt.
For all event updates please visit – http://www.australianlongboardopen.com/

About Australian Longboard Surfing Open: The Australian Longboard Surfing Open the 2012 event will be staged from 21st – 25th March at Kingscliff NSW Australia. It is set to take Australian Longboard Surfing to a new level of fun and entertainment with ASP LQS Men's & Women's divisions, a noserider event, SUP Surfing & Racing and amateur surfing divisions. On the land there will be a music festival, lifestyle market stalls, art, cooking demonstrations and movies.