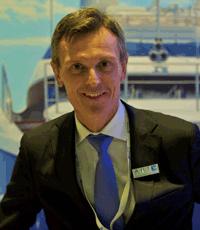 Art Marine, an Abraaj Capital Partner company, has appointed industry veteran, Didier Maillard, as its new Chief executive officer effective April 1.
Current Art Marine president and CEO Constantinos Constantinou announced the appointment at this year's 20th edition of the Dubai International Boat Show and introduced Maillard to attending industry exhibitors, regional and international customers, and media representatives.
"It is with great pleasure that I announce the appointment of my successor, Didier Maillard, who has served as Art Marine's CFO for the past three years.  During the time, and in line with changes in our industry, our company has embarked on an evolution in line with a more client focussed approach.  Didier has been instrumental during this time, and is perfectly suited to lead the company during its next phase of development," said Constantinou.
Maillard said:  "It is with great excitement and pride that I am assuming my new responsibilities.  It has been a pleasure working with and learning from an industry expert such as Constantinos in the past three years, and building together what is today one of the leading brands in the industry.  Art Marine is truly a household name in the business."
Attending the Dubai International Boat Show are some of Art Marine's most significant business partners including Azimut-Benetti, one of the finest names in yachting.
Vincenzo Poero, CEO of Benetti Spa said:  "We would like to welcome Didier in his new position and look forward to working with him in the future.  On behalf of the Azimut–Benetti Group, we sincerely thank Constantinos for working closely with our team to maintain Azimut and Benetti as the leading brands in the region, and wish him the very best."
"Didier Maillard has been instrumental in developing the Art Marine brand over the past three years.  A veteran in the industry, he brings extensive operating experience and a deep knowledge of the company to this role.  We believe that he is ideally positioned to successfully implement company's growth strategy and herald a new phase in Art Marine's development," said Matteo Stefanel, senior partner, Abraaj Capital.
This brief video shows a little bit about who Art Marine is.
httpv://youtu.be/yVAQgV3oKcE