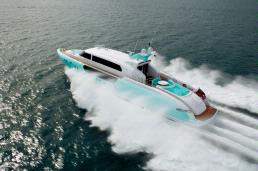 HamiltonJet – the New Zealand-based company recognised for pioneering the development of commercial waterjet technology – leads the strong line-up of participants from New Zealand's highly respected, world-class marine industry at this year's edition of the Dubai International Boat Show.
Other New Zealand companies participating at the show from 13-17 March 2012 at the Dubai International Marine Club include Weta Marine, Fastmount, Trudesign, Maxwell, Tallon, and Smartswitch. With the exception of Weta Marine, all other participants are represented in the UAE by Exalto Emirates, one of the largest marine equipment suppliers in the Middle East.
"We are really excited to be at the Dubai International Boat Show showcasing HamiltonJet's market leading waterjet propulsion technology," said HamiltonJet's Project Manager, Ashraf Abd El Azim, a marine engineer and naval architect with wide experience in commercial and pleasure yacht construction and maintenance. "Given we have been working with vessel designers and builders since 1954 creating waterjet propulsion systems that deliver optimum performance and efficiency, we are confident that companies from this region will realize the value and importance of partnering with HamiltonJet."
"With HamiltonJet's presence in the Middle East since the mid-90's, it has been the preferred jet for regional boat builders from Jordan to Oman," added Exalto Emirates General Manager, John Paul, who has worked throughout the Gulf region since 1995.
"And for local boat builders, there are always ongoing projects. Recently, jets were commissioned in Jordan for fast patrol boats, and closer to home, several crew boats were commissioned for Grandweld and Topaz," Paul continued.
"New Zealanders have an affinity with the ocean and have a passion for performance and good design. Our competitive success as a sailing nation has created a world class marine industry," said Steve Jones, New Zealand Trade Commissioner to the Middle East and Consul General in Dubai. "It's excellent to see a strong contingent of world-class New Zealand companies showcasing their innovative, high quality products at this prestigious show."
Showcasing for the first time at the show is international award-winning Fastmount™, which has set a new world standard for mounting removable panels. Designed and manufactured in New Zealand, Fastmount was originally developed for the demanding superyacht industry. The patented and EU design-registered system delivers a flawless finish with perfect alignment. Panels can be easily removed and refitted in any sequence time after time. Fastmount is used by more than 600 boatyards in 50-plus countries, and boasts many of the world's award winning Superyachts and top boatbuilders among its clientele.
In addition, Trudesign specialises in the design, manufacture and marketing of high quality marine valves, skin fittings, hose nozzles and associated products. All made in New Zealand, Trudesign products are made out of the latest high impact resistant composite plastic materials designed to meet the demands of the modern boating industry and conform to rigid ISO Marine Standards.
Meanwhile, Maxwell, which for four decades has been synonymous with the highest standards of performance in providing anchoring solutions for pleasure boats, Superyachts and commercial vessels, is another New Zealand company highlighted at the event. Its range of windlasses, capstans and accessories is extensive, providing anchoring solutions for vessels from six metres (20 feet) to over 90 metres (300 feet).
Furthermore, Tallon – OEM suppliers to international boat manufacturers such as Beneteau, Jeanneau and Dufour Yachts – has introduced a unique and innovative interchangeable accessory system to the international market. The New Zealand designed and manufactured Tallon Socket platforms accommodate five, interchangeable ranges of Tallon accessories for Entertaining, Fishing & Diving, Attaching, Power and the newly launched Data.
The new USB Elite Socket is a continuation of their award-winning Tallon Socket, now with the addition USB and Power connections (12 volt). Encompassing a USB port, the new Elite Socket is a unique 'plug and play' product that allows users to easily mount, remove and relocate items that need power as well as data to function such as tablets and smartphones.
Yet another New Zealand manufacturer showcased at the event is Smartswitch – manufacturers of electronic monitoring gauges and marine control instruments for boats. Smartswitch products also include systems that monitor and control marine tanks.
Using a solid-state micro processor, Smartswitch's marine tanks, bilges, fire and general alarms, marine navigation lights, toilets, fluid and fuel systems for boats can be monitored and controlled from one central location
And lastly, Weta Marine a New Zealand company that designed and developed the Weta trimaran, is also present at the event, together with Gulf Weta Marine – a newly formed Oman based company which is the distributor for Weta trimarans in the Arabian Gulf.
After launching the Weta trimaran, Weta Marine has rapidly expanded into the global market with 21 Weta dealers starting fleets in many locations. The success of the Weta is largely due to the fact that it is a performance boat yet has the size and ease of use to make it a strong contender for sailing schools and family sailing. Currently Weta Marine is developing another performance multihull.
photo: HamiltonJet