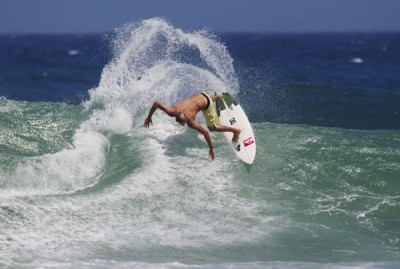 Easter weekend will once again play host to South Africa's most anticipated junior surfing event, the Quiksilver Pro Junior. Top junior surfers will be making their way to Durban, the warmest place to be, to do battle for top honours in the four divisions that make up this popular Easter event.
Beyrick de Vries, the 2011 Quiksilver Pro Junior winner, is excited that the event is back on the calendar and that it is being held at New Pier.
"Winning last year's Quiksilver Pro Junior was unbelievable, it was a big win for me and now I am competing on the PRIME and Star Tours," said an excited de Vries who is currently in Newcastle, Australia surfing in the Burton Toyota Pro. "I am still a junior and cant wait for this years event, I have been away but heard that the waves have been pumping in Durban with all of the cyclone swell. New Pier is always such a good wave for a contest and hope that it turns on again this year."
De Vries will have his work cut out for him defending his title with likes of David van Zyl (Durban), Michael February (Cape Town) and Slade Prestwich (Durban) all having entered this year's event. Prestwich put on an amazing display of surfing at last year's event falling short to de Vries in the final heat. De Vries was on fine form scoring a massive 15.67 out of a possible 20 in the man-on-man 2011 final.
The event boasts a total of R65 000 in prize money and is presented by the City of Durban. There will also be a Skullcandy Expression Session where judges will be looking for the two most radical and innovative maneuvers, each will be rewarded with R2 500. Co-sponsors include Independent on Saturday, Skullcandy and Red Bull.
Junior surfers wanting to enter the event can visit:
Quiksilver Pro Junior – www.aspafrica.com