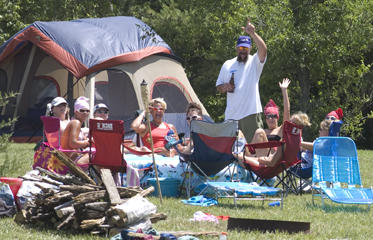 Have you ever wondered what state park facilities are still available on a busy weekend or wished you could make a reservation in advance from home, when park offices are closed? The Kansas Department of Wildlife, Parks and Tourism (KDWPT) Outdoor Recreation Management System (ORMS) — available April 17 — will provide that service and much more.
In addition to allowing customers to make reservations from the comfort of home, photos of each campsite and whether it's available will be hosted online. In most cases, ORMS will save park users money, through reduced service fees and more efficient management. The system also will allow staff to mark sites with problems — such as broken hydrants or electrical issues — until these issues can be fixed. ORMS data will show which sites are used the most, making management planning more efficient. ORMS will allow park staff to look within the system to see what sites are full and who is on that site, making emergency notifications much faster.
For those without computers or who still prefer using a phone, park staff will be able to use ORMS to help callers with reservations.
Reservations made before ORMS is launched will be moved into the new reservation system, so there will be no need to renew existing reservations. A cancellation/reschedule policy will be implemented, similar to the policy for camping cabins. The number of campsites available for reservation will vary by park. The rest will be available through the traditional first-come, first-served method. Shelter and group campground reservations will continue to be made only through the park office where the facilities are located.
In order to implement ORMS, the current reservation system will be shut down from April 1 through April 16. During this time, no reservations will be taken either online or by phone.
On March 31, all state parks will host a Free Park Entrance Day, with open-house in the offices, allowing customers to purchase park permits on the last day of lower off-season pricing. During open house, ORMS demonstrations will offer customers the opportunity to familiarize themselves with the new system. Also during the open house, visitors can enter a drawing to win a free one-night stay at a state park or public land cabin of their choice (terms and conditions apply, no purchase is necessary to enter. Call park office for details).
Those who cannot make it to a state park open house March 31 and see a demonstration can go online to Reserve America — www.reserveamerica.com — and familiarize themselves with how to use the system ahead of the launch date. Forty states are currently using the system, so pick one and see what they have to offer.
Among many other benefits of ORMS, park users will be able to make a reservation online from home, be assured to have a site if they have made a reservation, and avoid reservation errors such as double-booking. Park staff will use ORMS to manage walk-in as well as phone sales.
For those sites that can be reserved, users will be able to search for specific locations, sites, dates, and lengths of stay. Searches can be narrowed by amenities such as site size, utility hookups, equestrian facilities, hiking and biking trails, boating facilities, swimming areas, and more. Visitors without a camping permit can purchase one online before leaving home.
State park cabin reservations may already be made online at reserve.ksoutdoors.com or by calling or visiting a state park office. Constituents should continue to use these venues through March 31.
ORMS is much more than a camping and cabin reservation system. It will help KDWPT staff provide better customer service and more accurate visitor information. For more information, contact the nearest KDWPT state park or phone the Pratt Operations Office, 620-672-5911, and ask for the Parks Division.