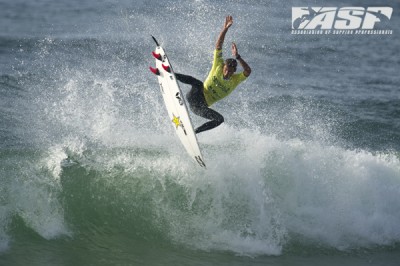 Merewether beach, Newcastle once again pumped out small but shapely 2 – 3 foot (1 – 1.5 meter) surf for the ASP 6-Star Burton Toyota Pro and the ASP 6-Star Hunter Ports Women's Classic. The Men's event finished the Round of 96 and got through eight heats of the Round of 48, while the Women's event completed the Round of 24.
Jack Freestone (AUS) and Mitch Crews (AUS) both progressed through their Round of 96 heat today placed 1st and 2nd respectively. The young Australian pair used their ultra-sharp aerials to eliminate Granger Larsen (HAW) and Bruno Rodrigues (BRA).
"I was looking at the results at which heat I would go into and I saw that I either had Mitch (Crews) or Parko (Joel Parkinson)," Freestone said. "So either way I knew I had a tough heat on my hands. That's the first heat I've had with Mitch for a long time and it's awesome that we both got through. We're great mates, we travel together and we're moving into the same house soon too."
Taj Burrow (AUS), current ASP World Championship Tour ratings leader had a tight tussle with Filipe Toledo (BRA), Jesse Mendes (BRA) and Michael Dunphy (USA) in their Round of 48 encounter. The lead changed multiple times between Toledo and Burrow, but it was the West Australian Burrow who's airs and carves received the highest praise from the judges.
"I knew it was going to be a tough heat," Burrow said. "Those guys are all energetic in small surf like that. They all rip. Last year I felt good here and had an unfortunate interference in the Quarterfinals and I lost. That's always disappointing, but that was my mistake and I'll never do that again. I'm hoping to do better than the Quarters this time. My board feels great and I feel great so there's no reason why I can't go all the way."
Sally Fitzgibbons (AUS), runner-up to the 2011 ASP Women's World Title, posted the highest heat total of the day 18.03 (out of a possible 20) in her Round of 24 clash. Fitzgibbons' wave selection and surfing was superb, as she mixed smooth carves and sharp snaps to easily advance to the Round of 12.
"I'm pretty stoked with that heat," Fitzgibbons said. "There was a lot of waves in that heat and it was lots of fun. My first heat I was trying different equipment and trying some things out and that work paid off. With events like this it's good to really get to know your boards and try different heat strategies heading into ASP Women's World Championship Tour events. We've got Bells coming up which I'm excited about and this is a stepping stone towards that."
Dimity Stoyle (AUS) locked in a solid heat win at the Hunter Ports Women's Classic today. The young Sunshine Coast surfer put her power surfing to work, earning some solid scores to advance to the Round of 12.
"I'm so excited to get an 8-point-ride," Stoyle said. "It feels good to get a big score in the small surf. Just trying to get big scores is pretty hard on a day like this. This event is so important. This year my focus is on the ASP 6-Star events and try to qualify for the ASP Women's World Championship Tour."
Bianca Buitendag (ZAF), winner of the CHIKO Pro Junior at this year's Surfest, is continuing her winning form in the blue ribbon ASP 6-Star Hunter Ports Women's Classic.
"Five minutes before my heat I had no idea where to sit," Buitendag said. "So I went out there and followed the other girls and just tried to find a few waves. The surf has been small but it's been really fun too. I'm loving Newcastle this year, it gets better every year I come."
Joel Parkinson (AUS), runner-up to the 2011 ASP World Title suffered a shock loss at the Burton Toyota Pro today. Parkinson finished 3rd in a tight heat, and was left only chasing a small score, but couldn't find the wave required.