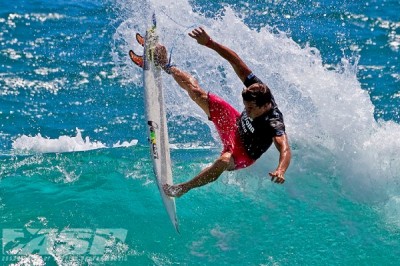 With the first event of the 2012 ASP World Championship Tour behind us and the world's best surfers eyeing the upcoming Rip Curl Pro Bells Beach, all talk has focused on the run for the 2012 ASP World Title. Perennial threat Taj Burrow (AUS), 33, bagged the first win of the season – will this be Taj's year? Reigning 11-time ASP World Champion and global sporting icon Kelly Slater (USA), 40, has remained characteristically uncommitted in regards to his annual plans – will Kelly rebound for 12 in 12? Amidst the millions of fans asking these questions out there, are four authorities on the subject: ASP World Champions Shaun Tomson (ZAF) and C.J. Hobgood (USA), and former elite surfers Jake Paterson (AUS) and Luke Munro (AUS). STAB Magazine recently probed the aforementioned gentlemen to get their in-depths on the 2012 ASP World Title Race. This…is their story…
Shaun Tomson, 1977 world surfing champ: As a huge fan of pro surfing, the first event of the year is a favourite – there's as much pressure on each competitor as if it were the end of the year with the world title on the line and it is good to see who has stepped up their game in the off-season. How the top guys perform out of the gate tells a lot about who will be on top at the end of the season. Generally the winner of the tour will come from the four who make the semis – Adriano, Josh, Jordy and Taj – so I'm going to make my selection from that quartet plus Kelly and Joel. A great start usually translates into a great finish as confidence is like a snowball rolling down the mountain, building in power.
So who to pick here?…
CJ Hobgood, 2001 world champ: I told the ASP I wanted Taj before the first event, I still stand by that and from an emotional side I want Taj to win. He's had his heart ripped out the most. He's put in a lot of time, absolutely loves surfing and has forgone a family. Taj always starts good at the first event, if he goes good at Bells and can get 'Bong to bag Chopes and have a good run through Europe, Taj will do it.
I do like the fact he keeps his…
Luke Munro, former world tour surfer and now bookmaker for TopSport, reveals punter's betting habits: We had a heap of money on Julian after the Breaka qualifying event at Burleigh. All year Kelly Slater has been pretty much friendless in the betting and he's out of $6 now, which is unheard of for Kelly. Both Joel Parkinson and Mick Fanning have been backed heavily but Mick's had the bulk of the betting. There hasn't been much on TB and early we had some money on Gabriel Medina but we can't write a ticket for the bloke at the moment."
And, Mun's own choice? "Personally, I like…
Jake Paterson, former world tour surfer, Pipe Master, commentator: It's Taj's year! I feel he is going to put it all together and win it before Hawaii. Why? The best start…
For the full insights, check out STAB's 'The Title'