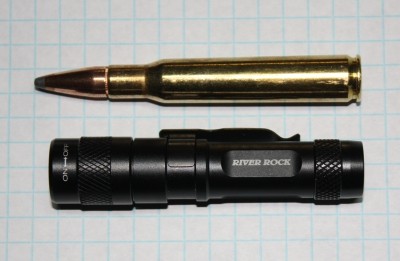 River Rock Lights new and incredibly powerful 100 lumen Nightfire light is just slightly longer than its battery. "We have created a very small but incredibly powerful light that can easily be carried even in a suit pants pocket without anyone noticing. Now you can have a serious flashlight with you all the time."–John Sedovic, President, River Rock Lights.
Powered by a single AAA battery this tiny one ounce light is the real deal.  An advanced new high-tech. LED makes this power possible from such a small package shorter than a .30-06 round.
The beauty of the Nightfire is it can be carried or clipped in a shirt or jacket pocket. You can easily remove the pocket clip and discretely carry it in your pants/slacks pocket. Think of all the times you wish you had a light with you for even daytime chores-well now you can. www.riverrocklights.com.
Effective power projection is well over 50 yards and it will easily light up a 30 x 30-foot room.
Specifications:
Power: 100 lumens
Material: Black anodized aluminum alloy
Width: Widest body diameter at lens 5/8″
Length: 3″
Weight: 1.0 oz. including battery
Run Time: Constant on run time 1 hour (hey it's a little battery)
Battery: Standard 1.5 volt AAA battery
Water Resistance: Entry points sealed with rubber O-rings
MSRP: $29.99Includes major brand quality battery