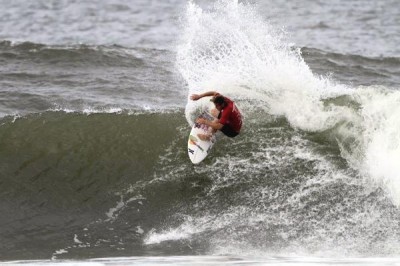 Conner Coffin (USA), 18, has won the inaugural Association of Surfing Professionals (ASP) 2-Star NorthShore Surf Shop Pipe Pro Junior, besting a talented field of top junior surfers from Hawaii, South Africa, Japan and Europe in tricky overhead surf. The first ever ASP Pro Junior event at Pipeline was an official ASP 2-Star rated event held over one day during the two week holding period of the SeaHawaii Women's Pro at Pipeline.
A three-to-five foot Northeast swell provided some of the world's top juniors with consistent waves at Gums, the sandbar to the east of the reef at Pipeline. Coffin, a talented regular-footed surfer from Santa Barbara best known for his progressive power surfing, showed incredible poise and smart heat strategy throughout the full day of competition. The young Californian peaked in the Finals, convincingly beating Hawaiians Ezekial Lau, Koa Smith and fellow Californian Jake Halstead. Coach Brad Gerlach, former ASP World Number Two surfer, gave Coffin the pre-final advice to get 1st or get 4th, urging him to go for broke and leave it all out in the water.
Despite a week of heavy rain, Saturday's competition saw fun waves and decent weather. Ezekial Lau picked right back up from his victory at the Sunset Pro Junior and looked to be the surfer to beat throughout the event. Lau dominated his early heats, threading deep barrels and executing radical snaps and carves, advancing with style and ease through to the finals. Another standout was Koa Smith of Kauai. The 17-year-old goofyfooter surfed brilliantly on his backhand, navigating through tricky barrels and blasting huge vertical snaps under the lip. Smith even managed to score a 10 point ride during the event, his first 10 point ride since nabbing a perfect score at a Rell Sunn Menehune event earlier in his career.
Jake Halstead, a 17-year-old from San Diego, tore apart the reeling rights with committed rail surfing. Local North Shore surfer Makai McNamara narrowly missed making a second consecutive appearance in a North Shore Pro Junior Final, falling to eventual winner Conner Coffin in a tightly contested Semifinal. Another local standout was Luke Shepardson. The unsponsored surfer charged through the event, taking down Keanu Asing in their Quarterfinal matchup. Shepardson even managed to score the only barrel of the event out at Backdoor during his Semifinal heat. Yet in the end it was Conner Coffin's day. Surfing with precision, power and style, Coffin found the best waves during the 35-minute final. A stoked Conner Coffin commented on the beach that the victory was the first time he had won an event since he was 12.
Liam McNamara continued his push to give the youth of Hawaii a chance to compete in more local events with this new Pro Junior event. Earlier this year, McNamara and the NorthShore Surf Shop put on a highly successful 4 Star rated Pro Junior event at Sunset Beach that was won by Ezekial Lau. Not merely content with just two events, McNamara hopes to create an 8 event Pro Junior series in the coming year that will include events on all the major Hawaiian Islands. With no junior events held during the last two years, McNamara is spearheading the charge to help the junior surfers of Hawaii earn valuable rating points and experience. "It is all for the kids. It is all for the future of the sport. I don't want to see our talent from Hawaii going to waste," said McNamara. These two grass roots events give McNamara the hope that a big sponsor will step up to the plate next year to help sponsor a Junior Hawaii tour.
With a total prize purse of $10,000, the NorthShore Surf Shop Pro Junior was another phenomenal event for the junior surfers of Hawaii. Special thanks goes to all the local supporters of the event: Sik Chix, Matsumotos Haleiwa, Surf n Sea, B's Bar and Grinds, North Shore Surf Shop, Steve's Frozen Chillers, Xcel, Pipeline Gear, Sunrise Shells Hawaii, Surfer the Bar, Grass Skirt Grill, Pizza Bobs, Lanikai Juice Company, Banzai Productions, Wendy's Catering, Flhi Girls Sports TV, Jerry's Pizza, ASP & Faith Wenzel, NAPA Auto Parts, Breakers Restaurant, Volcom House, Scoop of Paradise Ice Cream, Hon Moto, Kona Brewery Longboard Lager, Wyland Gallery, State Commission for the Status of Women, Outrigger Duke Kahanamoku Foundation, Jameson's Restaurant, Hon Moto, and San Lorenzo Bikinis.